I'm sure you've heard by now – on Monday night, the rigged, right wing SCOTUS opinion re: Roe v. Wade leaked– and it's unconscionable. After 49 years of right wing plotting to control our bodies and strip away fundamental human rights, SCOTUS intends to overturn Roe v. Wade and allow states to restrict abortion access. Conservative states have started with "blanket bans" on abortion and it won't end there. This broad ruling can also be applied to contraceptives, gender-affirming care, marriage, and other fundamental civil rights too.
We condemn this attack. It won't be wealthy people who become pregnant that struggle to attain safe abortion care, but the poorest people, communities of color, and survivors of rape and incest. Members of the working class will be forced to seek unsafe and ever more costly measures to get critical care.
Abortion care is health care, and health care is a human right!
Let's be clear – Abortion is your right – and it's still legal. We are showing up before the right-wing justices on the Supreme Court finalize a decision. We are showing up to demand elected officials—in Congress and in state houses—take every measure to enshrine the right to reproductive healthcare for all.
Hundreds of you flooded the streets last night. Lets continue to bring our rage, our hearts, our determination, to demand immediate action to protect abortion providers and people seeking abortions! Just Monday, JWJ joined the Planned Parenthood-led Coalition to mobilize the fight back! Can we count on you to join JWJ mobilizing a rapid response? Sign up here!
---
Support JWJ in the fightback with Summer Solidarity!
Portland JWJ's Summer Solidarity Celebration is back!
Less than a month away… we hope you will join us in celebrating community-labor solidarity!
We'll have raffle prizes, light hors' d'oeuvres, a cash bar, and live music!
*We do require guests to be fully vaccinated and to wear a mask when not consuming.
Thursday, May 26, 6 – 8pm
The Village Ballroom, 21+
704 NE Dekum St. Portland
To purchase tickets or to partner as a sponsor, Click Here!
Invite your friends and help us spread the word by sharing our Facebook event page here!
For ASL or Spanish interpretation, or for any other questions, please contact Operations Organizer Amanda Sager, amanda@jwjpdx.org.
---
Support Cannabis Growers Strike & Boycott for Union Recognition!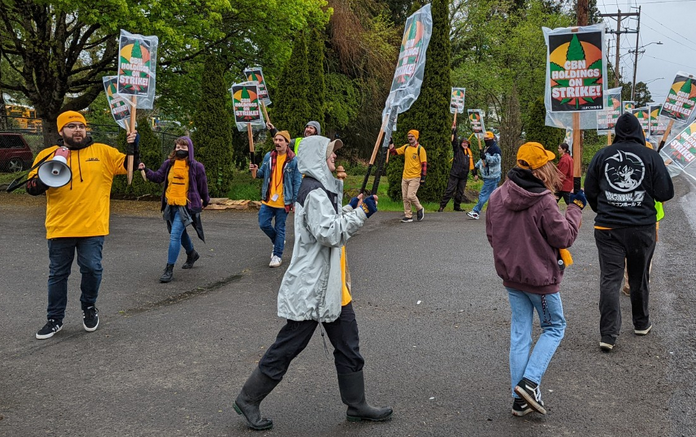 Cannabis workers at CBN Holdings are on strike to demand Union recognition with UFCW Local 555! Workers at CBN Holdings want to form a union to address unsafe working conditions, insufficient pay, and lack of access to health care, however their employer has yet to respond to recognize the Union and agree to bargain a Union Contract.
"CBN Holdings' "response" to learning of a Unionization drive was to fire four workers who are actively trying to form a Union. As CBN Holdings is a grow operation, these workers have no government agency to appeal these unlawful terminations or to demand a fair election process. These workers have no choice but to refuse to work until their concerns are addressed," commented Miles Eshaia, Communications Coordinator at UFCW 555.
Read more about Strike and Boycott the state of affairs for growers within one of Oregon's most rapidly rising industries on the UFCW Local 555 website here.
Support the picket line at 1731 SE Hogan Road in Gresham (from 6:00am-6:00pm) and BOYCOTT all cannabis products sold under the "Cannabis Nation" label until these workers have recognition of their union!
---
Cut Class Sizes, Not Teachers!


Since February, coalition member
Portland
Association of Teachers (PAT) has been working with educators and families to make sure that PPS resources for next year go where they make the biggest difference– to schools and classrooms.
In February, PPS originally announced the reduction of at least 120 teaching positions district -wide. Together with families and community, PAT has been able to restore positions in many schools. That is a great start, but schools are still poised to begin next school year with fewer educators and fewer supports than this year.
The district now has the chance to go further, to invest in staff, in order to provide the attention and support that students urgently need.
JOIN THE UPCOMING PPS BUDGET MEETINGS!
Please show up in solidarity with teachers at the next PPS Budget Meeting today Wednesday, May 4th, at 6pm at the BESC (501 N Dixon St, Portland, OR 97227)

Additional meetings to attend at BESC, 6pm:
May 17th (Budget Work Session), May 24th (Approval of Budget), June 14th (Adoption of Budget)
Send an email to Board Members and PPS Leaders!
Send an email to your State Senator and Representative!
Call PPS Leaders!
Share This Sign up Form with parents and community members who support PPS educators!
---
March with ONA Nurses in Oregon City, May 11


Nurses are uniting to raise standards at every Providence facility. Join ONA Nurses from Providence Willamette Falls and community allies for a march to raise standards Wednesday, May 11 in Oregon City. ONA nurses are continuing our fight to raise standards throughout Providence including addressing safe staffing for nurses and patients, affordable health care, fair wages, and better benefits. It's time for Providence to invest in Oregonians and put people over profit!

Marching Together to Raise Standards
Oregon's nurses need you to march with us to demand Providence raises its standards to improve health care for all people!
Wednesday, May 11th
5pm: Meet at Providence Willamette Falls Community Center (519 15th St, Oregon City, OR)
5:30pm: March to Clackamas County Circuit Court and back
7pm: Finish
---
Starbucks Workers United Rally and Sip-In at Jantzen Beach!


Starbucks baristas at over a dozen stores in the Portland area have joined the SBWorkersUnited movement, and with an 85% win rate, over 50 stores nationwide have already won!
Support baristas at one of the most recent shops to organize, the Jantzen Beach Starbucks, in their union drive! Union Coffee is Hot! Union-busting is Disgusting!
Saturday, May 14th at Noon
12235 N. Center Ave, Portland
RSVP https://tinyurl.com/SB-SOLIDARITY
---
Socialist Job Fair!
Tuesday, May 17, 7-9pm
Location, TBA, inner Eastside.
GET A JOB: Organizing with Socialists!
*Sick and tired of your current employment / under-employment / unemployment?
*Alienated and alone at work, without a socialist in sight?
*Get a job organizing with other socialists!
*Do political work on the job, not just in the evening and on weekends!
*Build working class power where we have the most leverage (the strike weapon) against the capitalists – at work !
*Build social and political relationships with your co-workers, meet regularly with DSA comrades to plan and carry out campaigns to improve working conditions, organize a union or invigorate an existing union, and eventually spread the socialist message and connect co-workers with the DSA and wider working-class campaigns.
*Contact the Portland DSA Labor group at portlanddsalabor@gmail.com for more info.
REGISTER —  https://tinyurl.com/SJobFair5
---
Portland Climate Strike! May 20th
We are a couple weeks away from the 2022 Portland Climate Strike, and you won't want to miss it! Come hear about ways to take action, hold our elected officials accountable, and fight for our collective future.

All are welcome and encouraged to join youth climate leaders this May 20th for the Climate Strike. We need our elected officials to fight for our communities and our future as much as we do. Let's be in solidarity with the youth leaders organizing this strike and show up together.
Portland Climate Strike
Friday, May 20th, 11 am
City Hall (SW 5th Ave)

After the rally at City Hall, we will march to Revolution Hall across the river for a celebratory festival with trainings and opportunities to get more involved and plugged into the movement.
Follow the Instagram for updates! Text @strikewus to 81010 to join the remind and receive updates. If you wish to get involved, co-sponsor, table, lead an activity, or join the planning meetings, get in touch with the organizers at portlandclimatefestival@gmail.com!
---
Doom or Bloom Action to Stop Zenith Energy by Rail!


Extinction Rebellion PDX is planning to protest Zenith Energy's continued operation at their facility at 5501 NW Front Ave. We will gather there on June 4th at 12 noon. Zenith stores and exports very volatile oil that is transported into Portland via train from the US and Canada and then loaded on tanker ships and sent to US refineries. Zenith expanded its processing capacity in defiance of the City's policy against new fossil fuel infrastructure, using a grandfathered construction permit. Last year, the City of Portland denied Zenith a land use compatibility statement which they needed for an air quality permit renewal to keep operating. Zenith has appealed the decision and the facility continues to store and export oil.
Our June 4th action will include a short march, music, art, street theater, speakers and direct action. If you would like to join us in planning this important event, please contact Margaret at margaretjwj@gmail.com, or Mark at markdari@pacifier.com.
---
Want to Help Prevent Displacement? Volunteer with ERA Today!
Tenants are the backbone of our community: they are health care workers, educators, bus drivers, letter carriers, public defenders, child care workers, and organizers. Tenants are parents, caregivers, neighbors, friends, and family. JWJ stands with the tenant-led coalition of Eviction Representation for All, to protect communities from displacement. We are excited that AFSCME Local 88, the Oregon Federation of Nurses and Health Professionals, and Portland: Neighbors Welcome have joined the movement. You can too! Check out the Policy overview and One-Pager here, and consider endorsing as JWJ has! Click Here to get in touch with the campaign!
The campaign is looking for canvassing leads as the campaign approaches the signature gathering phase. Join upcoming canvasses and trainings by clicking here!
Join the weekly volunteer training hosted on Sundays from 4-7pm on Zoom. They are "office hours" style so drop by ask questions, get the 101 about the policy and practice canvassing!
---
Risky Business: Oregon Treasury's Fossil Fuel Problem – Report Released!


Did you see Divest Oregon's groundbreaking report??
Last week, Divest Oregon released Risky Business: Oregon Treaury's Fossil Fuel Problem, which offers, for the first time, a detailed analysis of Oregon Treasury's fossil fuel holdings.
Rather than championing the necessary and necessary shift in the energy sector, the Oregon State Treasury (OST) has a least $5.3 billion invested in climate-wrecking fossil fuels, and over 1 billion invested in the coal industry alone. The writing is on the wall. It is time for the OST to change it's investment strategy. Continued support of the fossil fuel industry by the state exposes Oregonians to climate and health risks, economic costs, and financial losses.
Read the summary of the report or download a copy and share it with the PERS beneficiaries in your life! We are so excited to that JWJ member Oregon Education Association has joined the campaign!
Watch the recording of the launch to hear the highlights of the report, featuring Bill McKibben from ThirdAct and Amanda Mendoza from Private Equity Stakeholder Project.
Join the movement for a fossil-free future!
---
Hearing on Universal Health Care Resolution at Multnomah County – POSTPONED
The Multnomah County Board of Commissioners hearing scheduled for Thursday, April 28th, on a Resolution for universal, publicly-funded health care – has been postponed.

Stay tuned for more information on the rescheduled hearing!

---
Steering Committee
Are you organizing intersectional campaigns around workers' rights + social justice, and looking for community support? Join us for JwJ's Monthly Steering Committee Meeting, to get support for your struggle!

Portland Jobs with Justice Steering Committee meets on the first Monday of each month. At this meeting we discuss and vote on supporting, endorsing, and organizing events that fit into the mission of Jobs with Justice.
Request support here and share with us at our monthly Steering Committee, next upcoming on Monday, June 6 from 5:30-7pm. Click Here to send an email to Sarah for information on how to join! All requests must be submitted by Noon on Friday, June 3rd.

---
Portland Rising


Portland Rising is a committee that hosts discussions, panels, film screenings and other educational events about the importance of unions, and to draw connections between seemingly different campaigns based on the idea that all of our struggles are intersectional and interrelated.

Portland Rising just wrapped up a cross-JwJ and community conversation using the breakthrough novel, Kim Stanley Robinson's Ministry for the Future as a platform. The photo to the left is a screenshot of just one Zoom screen of the book group!
Portland Rising has also updated it's "Why Unions Matter" page! Click Here for many new articles in the free library on Worker Organizing efforts, Anti-Worker Threats and Actions, Labor Law and Workers Rights, and more! Check it out and bookmark this resource today!
To get involved or join the mailing list, please email portlandrisingprograms@gmail.com.

---
Health Care Committee


The JwJ Health Care Committee works to promote healthcare as a human right at the local, state, and national level, to defend union health plans, and to fight for fair, equitable and comprehensive health care that covers everyone and is paid for with public funds.
Click Here to send an email to the Health Care Committee chairperson to get on the committee's email list and for information on how to join the next virtual meeting held Tuesday, May 17th at 5:30pm!
If you are on Facebook, please "like" the new Portland JWJ Health Care Committee Facebook Page!
---
Faith Labor Committee
Our Faith Labor Committee's next meeting is Wed, May 25th at Noon.

Click Here to send an email to get on the Faith Labor Committee's email list and for information to get involved with the meeting.

The Faith Labor Committee is made up of labor and faith activists and leaders who come together to build sustained relationships between the labor community, and individuals and congregations in the faith community. Based on these relationships, the committee works to develop and implement outreach strategies to facilitate the faith community showing up in support of the struggles of working people in our city.
---
Global Justice Committee


Portland Jobs with Justice has long history of international solidarity work. Recently, committee members have supported efforts to Pass the Philippines Human Rights Act (PHRA), have been involved with the May Day Coalition, and have supported webinars, actions, and sign-on letters initiated by Trade Justice Ed Fund to unblock global access to vaccines. To join the weekly Wed hub meetings organizing around global vaccine justice, please click here!
JWJ's Global
Justice
Committee has also long mobilized for improved relations and US cooperation with Cuba, with members currently supporting the monthly picket and car caravan to End the Blockade of Cuba, organized by the
Portland

End the Blockade of Cuba Committee
!
---
Climate Jobs Committee
The Climate Jobs Committee works at the intersections of the labor and climate justice movements. Climate Jobs has been integral to passing the Portland Clean Energy Fund, upholding high-road Labor standards in Climate and COVID-related emergency declarations, as well as expanding the coalition to create stronger heat and smoke standards to protect frontline workers from climate extremes.

Click Here to send an email to the Climate Jobs chairperson to join the email list and for information to join our meeting Wed, May 18th at 5:30pm!