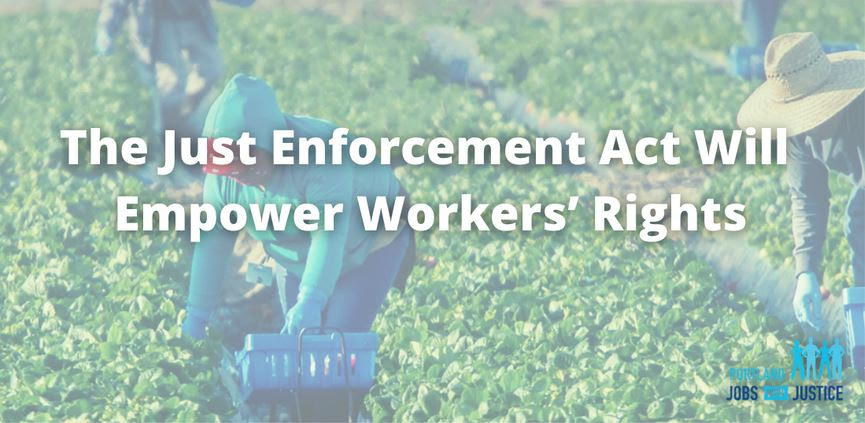 Check out our latest Blog with Justice on the Just Enforcement Act! The Just Enforcement Act (HB 2205) will empower workers by giving them greater tools to enforce their workplace rights! Specifically, it will provide an avenue for workers to partner with trusted community organizations to file suits on the state's behalf. This landmark Act will strengthen regulatory enforcement of workers' rights and foster a culture of compliance, creating workplaces that are more safe and more just for all. Read more here!
---
ONA- SEIU Unity Day of Action, April 7th! TODAY!

This month marks the one-year anniversary of the beginning of the COVID-19 pandemic, 14 months since Nurses started bargaining, and 21 months since winning the union election. Join workers in action to show Unity we support fair contracts which ensure quality patient care and safety in the workplace!

SEIU Info Pickets: 11am-2:30pm at Unity Center (1225 NE 2nd)
& 11am-2:30pm at Legacy Emanuel (2801 N Gantenbein)
Join support staff at Unity Center and Legacy Emanuel fighting for contracts which provide economic justice, health care justice, and critically, racial justice and equity!

ONA and SEIU Candlelight Vigil: 6 – 7pm at Unity Center (1225 NE 2nd)
Frontline caregivers and staff go to work every day during a staffing crisis in the middle of a pandemic to provide quality care to some of our community's most vulnerable populations. We are coming together to honor the lives lost to mental health struggles and COVID-19, the hard work of health care workers, and shine a light on Unity's responsibility to do right by patients, nurses, and staff.

Click Here to RSVP YES!  Count me in TODAY for the Unity Day of Action!
---
Rally for Respect and Hazard Pay!

Join us this Wednesday and Rally for Respect and Hazard Pay for PPS nutrition service workers and custodians!
Nutrition service workers and custodians have gone above and beyond during this pandemic to keep the buildings functioning and protect essential services like school lunch. It's time for Portland Public Schools to do the right thing and settle a fair contract with their essential workers.


Wednesday, April 7th at 3:30pm

---
Rise Up for Health Equity: Hosted by Medicare for All PDX

Join us for a masked, socially-distanced rally addressing racism, health care, and Medicare for All. We'll learn about racial health inequities, and measures to address them, including a national petition and a bills in the Oregon legislature
The last year has made racial health disparities crystal clear to all of us: we know that maternal mortality is 3x higher in Black women; we know that BIPOC communities have suffered much higher rates of COVID infections and death, and are much more likely to be uninsured or underinsured. As Medicare for All advocates, we know that health justice requires racial justice, and are committed to equity in every aspect of health care.

Saturday, April 10th from 4 -5pm
---
Solidarity with IATSE Sporting Event Workers!
IATSE Local 28 members have worked Trailblazers games since the Rose Quarter opened in 1995, and even before that when they played at Memorial Coliseum. They run sound boards, lighting, scoreboards, time clocks, and other technical equipment, necessary positions for all live games. While the Blazers games have returned, workers are being left out in the cold, as management has unfairly replaced union crews with non-union workers!
Join IATSE Local 28 in solidarity rallies during all Blazers and Winterhawks home games demanding reinstatement of their union work! Check out the recent article on their struggle! Use this Facebook frame to show you support Blazers' workers!
Upcoming bannering:
Saturday, April 10
Sunday, April 11
Wednesday, April 14
Saturday, April 17
Gather from 
2:30-5pm
 nearby the Moda Center (on N Interstate between NE Multnomah and N Drexler Dr) or drive by and honk in support!
---
Building an Escalating Campaign

Whether you're a workplace troublemaker or a neighborhood leader, we win our demands with smart campaigns. Join us for this essential training from the guidebook "Secrets of a Successful Organizer" on what makes a successful organizing campaign, including choosing the right issue, the right target, and the right tactics. Prepare to make a GAME PLAN for your next fight! A Portland DSA Labor training.
---
PRO Act Teach-In
Please join the Portland and Salem Democratic Socialists of America in a teach-in with local labor organizers and climate justice activists who will discuss why the PRO Act is the next essential step towards a just and safe future for all. The PRO-Act will eliminate roadblocks that prevent workers from building power and open the door to a revitalized labor movement that will fight for the change we all need. Learn how you can immediately help to make it a reality.
Monday, April 12 from 6:30-8:00 PM PST
Click Here to register!
Click Here to share the Facebook event page!
---
A Democracy Worth Fighting For: A Conversation with Erica Smiley, Lisa Hubbard, and Margaret Hallock

In this conversation, longtime social and economic justice organizer, JwJ National E.D. Erica Smiley, will explore how the pandemic has left millions of people behind—especially women and people of color—while wealth grows even more concentrated in the hands of the few. She will explain why more political and economic democracy is necessary to lessen poverty and racism.
Smiley and respondents Margaret Hallock, founding director of the University of Oregon's Wayne Morse Center for Law and Politics, and Lisa Hubbard, interim E.D. for Portland JwJ, will discuss achieving worker power through organizing "whole people" in their communities. This strategy will help the labor movement in the United States build on the unions we have in order to create the new institutions we need.
---
Confronting COVID-19: Cuba's Approach to Healthcare for All
Cuba spends only 4% of the dollars per patient as the US health system. Yet the Covid-19 case rate is 50+ times higher in the U.S. than in Cuba, and the death rate is 85+ times higher. What lessons can we in the U.S. learn from Cuba's remarkable system of health care for all?


Join this webinar to hear from a doctor at Cuba's renown Latin American School of Medicine (ELAM) and for a filmmaker-guided screening of Cuba & COVID-19. Hosted by Bay Area Saving Lives.

Following the webinar, join the Global Justice and Healthcare Committee for a joint committee discussion on Cuba's expansive approach to healthcare at home and it's medical missions abroad, in a context of global vaccine inequity. Details below:
Cuba's Healthcare System, Medical Diplomacy, & Global Vaccine Access
Wednesday, May 5 at 6:30 PST
Join Zoom Meeting
https://zoom.us/j/95557054669
Meeting ID: 955 5705 4669
Passcode: cuba
      +1 253 215 8782 US (Tacoma)
---
Organizing Workshop! Turning an Issue into a Campaign

Everybody has complaints and frustrations at work, but an organizer has the skills to turn problems into opportunities. This workshop offers you practical tools for turning an issue on the job into a successful campaign.


Register now for this free, hands-on, participatory virtual event.


The workshop, facilitated by Mark Brenner of the Labor Education and Research Center at OSU, draws on the popular Secrets of a Successful Organizer guide for organizing in your workplace.
The Works Together committee of the Southwest Washington Central Labor Council is pleased to host this event.


Tuesday, April 27, 2021 5:30-7pm
---
Workers Memorial Day – Save the Postal Service 

!
Join us for a Press Conference and Rally to commemorate postal workers who have lost their lives to Covid-19, condemn postal management's bungling of PPE, contact tracing, testing, disinfecting, leave, and hazard pay.
We are calling for the removal of the Postmaster General Louis DeJoy and opposition to his Ten-Year Plan of cuts, closures, delay of mail and price hikes.

Support the American Postal Workers Union contract campaign for Good Jobs, Good Service. Sponsored by Communities and Postal Workers United and Portland Area American Postal Workers Union


Wednesday, April 28 from Noon-1pm
East Portland Post Office (1020 SE 7th)

Click Here to share the event page on Facebook!
---
Portland Rising Discussion on Amazon Organizing!


Wednesday, April 28, 7-8:30—
 Join Portland Rising and members of the Amazon Worker Organizing Committee for an online discussion of warehouse worker organizing at Amazon, with a focus on the Bessemer, Alabama and Troutdale, Oregon facilities.
Some 6000 Bessemer Amazon warehouse workers, a majority of whom are Black and female, have recently voted by mail to decide whether to unionize with the Retail, Wholesale and Department Store Union, an affiliate of the United Food and Commercial Workers Union. Amazon has aggressively opposed the organizing drive, employing a variety of tactics to undermine worker support for unionization. The outcome of the vote should be known by the time of the meeting.  

Workers at the Troutdale facility have also been organizing, for the right to a safe workplace and a union. There have been more than two hundred reported Covid-19 cases at the facility, making it one of the largest covid infection locations in the state. Even before the pandemic, the Troutdale warehouse was one of Amazon's most dangerous in terms of injuries per worker. And now, Amazon is forcing its workers to sign non-disclosure agreements in an attempt to restrict worker reporting.
Regardless of the outcome of the Bessemer vote, there is important organizing going on, and a lot for us to discuss, including lessons to be learned and ways to support and deepen the movement for worker rights.
To join the conversation, write portlandrisingprograms@gmail.com for the zoom log-in.
---
International Workers Day- Pass the PRO Act, Win a Green New Deal!

This May Day mobilization follows 6 weeks of phone banking and Townhalls pushing Senators to pass the PRO Act, a transformational bill that will boost union organizing, first contract fights, eliminate Right-to-Work laws, and legalize solidarity strikes and boycotts. We need a much larger, more powerful labor movement to pass a Green New Deal, to save the planet and transition to clean energy with union jobs. Join us for a Rally at Holladay Park and March to Senator Wyden's office, demanding he fight to end the filibuster so we can win the PRO Act! Sponsored by Portland DSA.
Saturday, May 1 from 11-12:30pm
Holladay Park, NE 11 and Holladay St
Click Here to share the event page on Facebook!
---
Why Unions Matter Library
Have you checked out JwJ's Why Unions Matter Library?
 JwJ's Portland Rising Committee has updated this amazing resource, just one click away: 
Why Unions Matter Library
. 
Stop into this library, open 24/7, to check out a number of new articles highlighting union organizing campaigns, anti-worker threats and actions, and labor law reform efforts.

---
Demand a Contract that Holds Police Accountable!
The public mandate to rethink policing has never been more clear. The City of Portland has a critical opportunity to advance racial justice and genuine community safety through bargaining a new contract with the Portland Police Association.
Click Here
for Unite Oregon's letter endorsed by 60 civil rights, faith, labor, and community organizations, including AFSCME Local 328, Reynolds Education Association, PSU-AAUP Executive Council, CWA Local 7901, Climate Jobs, Voz Workers Rights Education Project, Mt. Scott-Arleta NA, Foster-Powell NA, Portsmouth NA. If your organization would like to join the growing list of endorsers, 
Get in Touch!
JwJ Committee Meetings:
---
Steering Committee
The Portland Jobs with Justice Steering Committee meets on the first Monday of each month.
Are you a worker who is organizing and identifies as Black, Indigenous, Latinx, or a person of color; a woman; immigrant; or LGBTQ seeking support for your struggle? Are you organizing campaigns of intersectional social justice, and looking for community support?
Request support here and share with us at our monthly Steering Committee, next upcoming on Monday, May 3rd from 5:30-7pm. Click Here to send an email to the committee liaison for information on how to join.
This meeting is open to the public and our membership. At this meeting we discuss and vote on supporting, endorsing, and organizing events that fit into the mission of Jobs with Justice.
Click Here to fill out the Steering Committee agenda item request form.
All requests must be submitted by 12:30pm on Friday, April 30th.
---
Portland Rising
Portland Rising is a committee that hosts discussions, panels, film screenings and other educational events about the importance of unions, and to draw connections between seemingly different campaigns based on the idea that all of our struggles are intersectional and interrelated.
Click here to take a short survey developed by Portland Rising to better understand our community. We hope the information will improve our ability to organize events and programs that can help build a more powerful movement for justice for working people! Responses to the survey will only be seen by members of the Portland Rising steering committee.
The next meeting is the discussion on Amazon worker organizing listed above. To get involved or join the mailing list, please email portlandrisingprograms@gmail.com.
---
Health Care Committee
The JwJ Healthcare Committee works to promote healthcare as a human right at the local, state, and national level, to defend union health plans, and to fight for fair, equitable and comprehensive health care that covers everyone and is paid for with public funds.



The next committee meeting is scheduled for 

Tuesday, April 20th 

from 

5:30-7pm

 by virtual meeting.

Click Here 

to send an email to the Health Care Committee chairperson to get on the committee's email list and for information on how to join the virtual meeting.
---
Faith Labor Committee
Our Faith Labor Committee's next meeting is Wednesday, April 28th from 12-2pm by virtual meeting.

Click Here to send an email to get on the Faith Labor Committee's email list and for information on how to join the virtual meeting.
The Faith Labor Committee is made up of labor and faith activists and leaders who come together to build sustained relationships between the labor community, and individuals and congregations in the faith community. Based on these relationships, the committee works to develop and implement outreach strategies to facilitate the faith community showing up in support of the struggles of working people in our city.
---
Global Justice Committee


Portland Jobs with Justice has long history of global justice and international solidarity work ranging from organizing caravans to the 1999 WTO summit in Seattle and supporting striking GM in workers in Columbia, to mobilizing war resistance and exposing the lies of companies like Nike about their treatment of workers.
Click Here to send an email to the Global Justice committee liaison for information to join our next meeting. We will host a joint Global Justice and Healthcare Committee meeting to discuss Cuba's healthcare system at home, medical missions abroad, in a context of global vaccine issues! Wed, May 5th at 6:30! Details above!
---
Climate Jobs PDX
The Climate Jobs PDX project works at the intersections of the labor and climate justice movements. Climate Jobs has been integral to passing the Portland Clean Energy Fund, upholding high-road Labor standards in Climate and Health Policy, as well as organizing environmental allies for Labor standards in green jobs.
Click Here to send an email to the Climate Jobs chairperson to join the email list and for information to join our next meeting Wednesday, April 21st at 5:30!