Today in Labor History: The creation of the Congress of Industrial Organizations (CIO) was announced on this day, November 9, 1935 by eight international unions belonging to the American Federation of Labor (AFL) to advocate for organizing workers in mass production industry work.  
---
Congratulations to our 3 Scrooge of the Year FINALISTS!

I.A.T.S.E. Local 28 nominated METRO for contracting out their AV workers.

AFT-Oregon nominated Portland State University Administration.

OFNHP nominated Mary Mongrain from Peacehealth Southwest.
On Thursday, December 8th at 6:30pm at Taborspace we will vote for one of these bosses to be named Portland's Scrooge of Year.
Our 3 finalists will write and perform a 7-10 minute entertaining skit demonstrating why we should vote for their nominee. Then we all vote for our favorite/most hated Scrooge.
As we know, votes cost money. So, the nominee who sells the most votes wins the award!


Votes are the tickets to the party. Tickets are $15 in advance, $20 at the door. Each ticket sold is worth 20 votes to put toward your Scrooge nominee. Participants can make additional donations to get more votes for your nominee. More money, more votes!
Share the link below and event flyer with any and everyone!
Ticket donation link: https://bit.ly/3zYTW2z
---
Fighting Times: Organizing on the Front Lines of the Class War, a reading with author Jonathan Melrod
Deeply personal, astutely political, Fighting Times recounts the 13-year journey of Jonathan Melrod to harness working-class militancy and jump start a revolution on the shop floor of American Motors. Melrod faces termination, dodges the FBI, outwits collaborators in the UAW, and becomes the central figure in a lawsuit against the labor newsletter Fighting Times, as he strives to build a class-conscious workers' movement from the bottom up. A radical to the core, Melrod was a key part of campus insurrection at University of Wisconsin-Madison. He left campus for the factory in 1974, hired along with youthful job seekers onto the mind-numbing assembly line. Fighting Times paints a portrait of these rebellious and alienated young hires, many of whom were Black Vietnam vets. Containing dozens of archival photographs, Fighting Times captures the journey of a militant antiracist revolutionary who rose to the highest elected ranks of this UAW local without compromising his politics or his dedication to building a class-conscious workers' movement. Melrod's book will arm and inspire a new generation of labor organizers with the skills and attitude to challenge the odds and fight the egregious abuses of the exploitative capitalist system.



Friday, November 11 @ 7pm (PT) / Powell's City of Books
---
IMA-PDX Fundraiser and Bake Sale!


Support local migrant organizers who will attend the Global Assembly in Bangkok this month!
Bake sale! Pre-order by Wednesday, 11/9 bit.ly/imabakes
Fundraiser! Sunday, 11/13, 2-6pm @ Bottles & Cans, 5916 N Greeley Ave
---
POSTAL RALLY!

Celebrate the Service — Protecting the Vote, Delivering the Holidays, Call on Biden to Dump DeJoy by Appointing New Postal Governors
Wed. Nov. 16, Noon – 1
East Portland Post Office, 1020 SE 7th Ave.
RSVP and share the Facebook event page here!
Sponsored by Communities and Postal Workers United & American Postal Workers Union local 128
The People's Postal Service, run by dedicated postal workers, is protecting our votes and delivering for the holidays, even when burdened with understaffing, cuts, delays, and price hikes by top postal management.
Despite two years of calls for the removal of Postmaster General Louis DeJoy by postal unions, advocacy groups and many Congress people, the Postal Board of Governors continues to support DeJoy.
Two pro-DeJoy governors – Lee Moak and William Zollars – end their terms on December 8, 2022. President Biden has the opportunity to replace them with pro-public, pro-worker nominees and tip the balance to finally dump DeJoy
---
Stopping Trade Attacks on Climate Policies: The Need for a Climate Peace Clause



When: Wednesday, November 16, 5pm
Where: Register on Zoom here
What: TC Energy is suing the US for $16B under NAFTA for rejecting permits for the Keystone XL pipeline, which activists fought for years. Join TJEF, Sierra Club and Public Citizen to learn more about how trade rules are impeding climate action and what you can do about it.
Sign the Petition! Urge Biden to End Trade Attacks on Climate Policy!
---
Rumble on the River Community Forum 2



Join the second free community forum to educate and activate around the threats to public health, safety, and our environment stemming from the CEI Hub and Zenith Energy's oil-by-rail operations. Learn more & register here!

Wed, Nov 16 from 6-8pm
St. Luke Lutheran Church (4595 SW California St)

---
Low Wage Workers Strike Fund Benefit


Join the IWW and allied unions, Burgerville Workers Union, Doughnut Workers United, Mill Workers United, and New Seasons Labor Union for a FREE fundraiser screening of Blue Collar on Thursday, November 17th, 7pm at Clinton Street Theater.
---
Portland Rising Night in at the Movies: "The 1934 Waterfront Strike: Solidarity on the Docks"

Join Portland Rising, a Committee of Portland JWJ, in the showing of "The 1934 Waterfront Strike: Solidarity on the Docks" on Friday November 18th starting at 7 pm. The film highlights the 1934 West Coast longshore strike with a focus on events in Portland. Request movie instructions and login information by emailing portlandrisingprograms@gmail.com.



A special guest will join us for our post-film discussion— Stuart Strader, President of International Longshore and Warehouse Workers Union Local 8. The film is part of OPB's Oregon Experience series. As an OPB story about the film states:

Eighty-three days during the summer of 1934 will be honored forever by men and women of the International Longshore and Warehouse Union – the ILWU. It was a time when longshoremen fought, fell and ultimately triumphed together despite the odds against them. "I call it the closest brush that Portland had with class warfare." — Michael Munk, Historian
---
November 3 – 25: Nobody Wants to Work Anymore – an exhibition by Erica Meryl Thomas


"Nobody wants to work anymore," was the phrase appearing in job ads, op eds, and on hand printed signs at the counters of thousands of businesses across the US over the past 2 years. The bosses hanging these signs were unable to see what was really happening. Nobody wanted to work for them, under these conditions, anymore. Employees at all levels had seen their employers' willingness to sacrifice them in the service of business as usual, and their response was one of the largest mass resignations in US history. Un-organized and unsung workers were revolting with this simple act of repossessing the value of their own bodies, time, and labor. It sent shock waves through the American economy, revealing the power that ordinary people could have to affect the ways they are ordered to live their lives. What they were saying was that nobody wants to risk their life for work that only benefits the boss, nobody wants to have to choose between their family or their paycheck, or to face a choice between destitution and death by disease or disaster. The truth behind those signs is that everybody wants to spend their time on activities that are meaningful, contribute to their communities. This show is inspired by the collaboration between artist and labor organizers doing the work of collective solidarity, to take back our lives from the wealthy and powerful few and build a new world for all of us. https://www.ericamerylthomas.com/

Gallery hours M–F: 9am–5pm
735 NW 18th Ave
Stop by anytime, contact Erica for a small group showing or join the closing party Friday Nov 25th from 5-9pm.
---
Take Action: Say No to ShotSpotter's Surveillance Tech in Portland!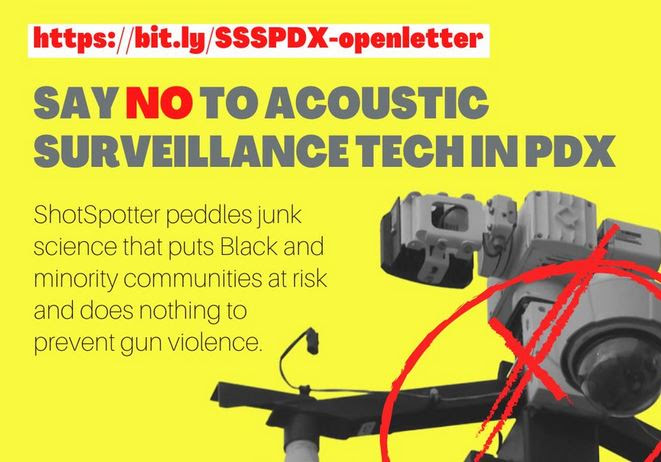 A growing movement of community members and organizations are raising concerns about the Mayor's plan to propose a pilot of ShotSpotter, acoustic surveillance technology which could disproportionately target BIPOC communities and communities which experience poverty. ShotSpotter is a system of audio sensors that alert police to where and when shots are supposedly fired. And yet, this technology is unreliable and has not been independently verified.  Smart City PDX, the City's office dedicated to privacy & technology, has warned of the risk of heightened police interactions that would include racial profiling, unconstitutional stop-and-frisk, and high risk of lethal force and false arrest. Recently, OPB reported on the tech firm's 6-figure sums spent to lobby City officials to purchase it's dubious technology, leaving many questions that neither the mayor's spokesman, community safety director nor the company would answer.
Learn more about the dangers of acoustic surveillance technology and sign-on with other local organizations and individuals to show that ShotSpotter has no place in Portland. Check out Campaign Zero's slidedeck here, and the most recent community forum, here!
Know Your Tech: https://www.aclu-or.org/en/know-your-tech-shotspotter
Urge City Officials to Say No to ShotSpotter: https://bit.ly/SSSPDX-signon
---
Are you organizing intersectional campaigns around workers' rights + social justice, and looking for community support? Join JwJ's Monthly Steering Committee Meeting, to get support for your struggle!

Portland Jobs with Justice Steering Committee meets virtually on the first Monday of each month from 5:30-7pm. At this meeting we discuss and vote on supporting, endorsing, and organizing events that fit into the mission of Jobs with Justice.
Request support here and share with us at our monthly Steering Committee, next held on Monday, December 5, from 5:30-7pm. Click Here to send an email to Sarah for information on how to join! All requests must be submitted by the Friday prior.
---
Portland Rising
Portland Rising is a committee that hosts discussions, panels, film screenings and other educational events about the importance of unions, and to draw connections between seemingly different campaigns based on the idea that all of our struggles are intersectional and interrelated.

Portland Rising is excited to announce the return of our online Friday night movie showings. As before, we plan to show a movie every other month (with a holiday exception), on the last Friday of the month, with a 7 pm start. What follows is a list of our scheduled films and their show dates:
The 1934 Waterfront Strike: Solidarity on the Docks—November 18, 2022
Pride— January 27, 2023  
Painted Nails—March 31, 2023
The Killing Floor—May 26, 2023
UberLand—July 28, 2023
Sorry to Bother You—September 29, 2023
Visit our Labor Movies Library for information about these and other fine films.
Looking forward to seeing you at one of our upcoming Night-in At The Movies gatherings.

To stay apprised of these events to request the information for the first showing, send a line to portlandrisingprograms@gmail.com.

---
Health Care Committee
The JwJ Health Care Committee works to promote healthcare as a human right at the local, state, and national level, to defend union health plans, and to fight for fair, equitable and comprehensive health care that covers everyone and is paid for with public funds.

The Committee continues to fight the privatization of Medicare and in support of policy which allows for COVID tests and treatments to be free, accessible, and globally available. The Committee has also called for greater awareness of how small, low-income countries including Cuba have fostered better health outcomes, including greater life expectancy, and lower child mortality, due to a national health system which assumes fiscal and administrative responsibility for the health care of all its citizens. Two weeks ago, JWJ's Health Care Committee spoke in unequivocal solidarity with Grad workers at PSU who are fighting for health care coverage!

Click Here to send an email to the Health Care Committee chairperson to get on the committee's email list and for information on how to join the next virtual meeting held Tuesday, November 15th at 5:30pm!
---
Faith Labor Committee
Click Here to send an email to get on the Faith Labor Committee's email list and for information to get involved with the next meeting Wednesday, November 30th from 6 to 7:30!

The Faith Labor Committee is made up of labor and faith activists and leaders who come together to build sustained relationships between the labor community, and individuals and congregations in the faith community. Based on these relationships, the committee works to develop and implement outreach strategies to facilitate the faith community showing up in support of the struggles of working people in our city. Check out this recent profile of committee member Rev. Dr. David Wheeler! On Tuesday, Nov. 1, the Board of County Commissioners awarded JWJ's Faith-Labor Co-Chair Rev. Cecil Prescod the Gladys McCoy Lifetime Achievement award for his "outstanding volunteer service dedicated to improving the community"! Pictured: Rev. Connie Yost affirmed the workers' struggle against a bully boss at PeaceHealthSW.
---
Global Justice Committee


Portland Jobs with Justice has long history of international solidarity work and trade justice. For the better part of two years, we've organized with Trade Justice Education Fund (TJEF) for workers' rights to be centered in trade deals. Currently we have been learning about how corporate trade deals authored by Big Tech would undermine Labor rights, as well as data privacy and reproductive justice. Check out and share the slide deck here!


The Committee also continues to uplift solidarity efforts to support migrant seafarers, human rights in the Philippines, and to End the Blockade of Cuba! JWJ is here in the writeup about the Portland Day of Action, in concert with the world community and UN General Assembly's 30th vote to demand an end to the economic, commercial and financial U.S. blockade against Cuba.

Want to get involved? Write yimei@tradejusticeedfund.org
---
Climate Jobs Committee
The Climate Jobs Committee works at the intersections of the labor and climate justice movements. Climate Jobs has continued to advocate for and champion the Portland Clean Energy Fund, and is exploring planning grants with union partners in order to connect low-income members to weatherization and energy retrofits.

Climate Jobs recently worked with partners to organize workers voices in the creation of Oregon OSHA heat and smoke safety protections and seeks to track the implementation. Do you have a story about an employer complying or not complying with new heat/safety rules? Let Climate Jobs know!

Climate Jobs is dedicated to robust climate action and have continued to mobilize with youth climate strikers and allied organizations to demand the City uphold it's commitment to phase out fossil fuel use and expansion, and to call for climate-safe investments in Oregon. Recently, Laurie King spoke at the first of several community forums about the threat Zenith's oil trains, operating in a liquefaction zone, continue to pose to climate and working class communities. Stay tuned for information on the next community forums!

Click Here to send an email to the Climate Jobs chairperson to join the email list and for information to join the next meeting Wednesday, November 16th at 5:30.