Welcome Extinction Rebellion PDX to the JWJ Coalition!
At the March meeting of JWJ Steering Committee, Extinction Rebellion PDX (XRPDX) officially joined the JWJ Coalition! Members of Climate Jobs, including JWJ founders, have been active participants in XRPDX, linking struggles that center people over profit and justice over corporate greed! Since 2020, both XRPDX and JWJ have been linked on the streets, participating in and planning mobilizations, most memorably large scale mobilizations led by the Black Lives Matter movement around the 2020 election and inauguration – calling for electoral justice and human rights to be centered in the political system!
We are thrilled to have another climate and environmental justice community group join the Coalition, joining Sunrise PDX, 350PDX, and more! JWJ is proud to support XRPDX's shared commitment to education and collective action and to build a world fit for generations to come!
---
JWJ On the Airwaves!
For International Women's Day on March 8, 2023, JWJ joined a collage of spoken testimony and music featuring women, unionists, and other community leaders sharing personal stories and resources in the fight for gender justice. Thank you for being a loyal reader of this newsletter! Now you can listen in to hear me share how I came to this work and how Labor organizing is a critical tool in the fight for gender justice! I am proud to join KBOO's local community radio, and this program organized by Tina Turner-Morfitt (Coalition of Black Trade Unionists), and which included contributors Stacy Chamberlain (Oregon AFSCME), Nannete Carter-Jafri (member leader at SEIU Local 503) Jordana Sardo (AFSCME Local 88) and others! Check it out here!
---
Wed, March 22: Starbucks Workers United on Strike Against Union-Busting!
Baristas of Starbucks Workers United have taken us by storm since they first launched their union on December 9, 2021 – the movement now covers roughly 300 stores nationwide, including 16 in Portland. Not a single workplace has featured more prominently in the national Labor upsurge than Starbucks workers struggle. This past Sunday, JWJ supported the rally and march to celebrate the fight baristas have brought to one of the richest, most powerful, most exploitative CEOs in America, Howard Schultz. One day longer, one day stronger, workers are outlasting Schultz, and sending him packing. On Monday, Howard Schultz announced his resignation (again), two weeks earlier than anticipated! Schultz and Starbucks still have to account for their union busting. The struggle continues with today's Strike. Support baristas out there today!

Wed. Mar. 22, 9am-3pm
Strikes at three local Starbucks
Stucki – 2001 NE Stucki Ave, Hillboro
Pioneer Square – 720 SW Broadway, Portland
102nd & Stark – 10215 SE Stark St, Portland
RSVP for Starbucks Workers United solidarity actions https://linktr.ee/portlandstarbuckssolidarity
---
SATURDAY: Rally for BVWU (Burgerville Workers Union) Workers!
Years in the making, Burgerville Workers Union became the first certified fast food union in the U.S. in the spring of 2018 at the Powell and 92nd shop!
Spreading to five stores, Burgerville Workers Union (BVWU) became the first in the U.S. to ratify a fast-food union contract covering all stores in December 2021! BVWU's historic first contract expires on May 1, 2023.
It took years of struggle and the support of a community-labor movement to encourage workers to fight one day longer and win, despite rampant unfair labor practices by Burgerville corporate all along the way. Workers continue to face targeted retaliation, harassment, wrongful termination, and unilateral changes to working conditions. Recently, workers have faced increasing pressure to work while sick. Workers need Sick Pay!
As BVWU prepares to bargain for a strong, successor contract, let's mobilize community support for their demands which include Sick Pay, and let's hold Burgerville corporate accountable for their unfair labor practices!
Let's make loud and clear that the Pacific Northwest is union made, worker run, and fight ready.
Rally for Sick Pay!
Saturday, March 25th from 2 – 4:30pm
Hawthorne Burgerville (1122 SE Hawthorne)
Wanna support the strike fund? The bargaining fund? Want a cool nifty union printed BVWU shirt? All proceeds go directly to our fight!

---
PDX Says No to adidas Wage Theft: Thursday, March 23rd, 9am at 614 SW 11th
At March 23rd at 8:50 a.m., Portland labor and community members will rally outside the Sentinel Hotel at 614 SW 11th Ave. in downtown Portland to protest adidas North America president Rupert Campbell's speaking event and call attention to the massive wage theft throughout the adidas supply chain. While raking in billions during the pandemic, adidas stole from workers producing their apparel. In Cambodia alone, 30,000 workers are owed $11.7 million dollars in wages. Garment workers unions are organizing across borders and fighting back, demanding that adidas pay back stolen wages and negotiate with the workers who produce their apparel!

 

 

Portland is adidas North America's headquarters, and the Portland community has outsized leverage in pressuring adidas to meet with garment workers. While garment worker unions, part of the Pay Your Workers union coalition, organize in Cambodia, Indonesia, India and more, we can organize in solidarity here in Portland to amplify their demands!

 

Can you make it out to support garment workers? You can e-mail the US campaign director at billy@payyourworkers.org
---
Labor, Veterans, Healthcare Profiteering, and the Fight Against Privatization
Wednesday, March 29 from 6:30 to 8:30 PM
Eliot Hall at First Unitarian Church
1011 SW 12th Avenue, Portland, Oregon, 97205
Suggested donation: $5 to $20
Share the Flyer Here!
RSVP at the Facebook Event Page Here!


No one turned away at the door and $20 contributors get a donated, signed copy of Our Veterans, by Steve Early and Suzanne Gordon.

Union members, military veterans, and health care reformers around the country are demanding that the Biden Administration stop its privatization of traditional Medicare and the VA hospital system, two of our best working models for single payer healthcare.   At the US Postal Service, which employs more than 100,000 veterans, workers are also resisting the continuation of Trump-era policies designed to replace our national network of post offices with private mail delivery firms.

At this March 29 labor-community discussion, find out more about these three critical anti-privatization campaigns—and what's at stake for Medicare recipients, VA patients, Postal Service customers, and all private or public sector union members.

* Sponsored by Economic Justice Action Group of First Unitarian Church *
Co-sponsored by: Labor Notes, Portland Jobs with Justice, AFGE Local 2157, Veterans For Peace PDX 72, AFSCME Local 88, Veterans Healthcare Policy Institute, Communities and Postal Workers United, Alliance for Democracy, Portland DSA, Health Care for All Oregon, HCAO-Action, and the National Writers Union

---
Portland Rising invites you to a Night-in At The Movies: Painted Nails
Please join us for an online showing of the documentary Painted Nails. We will meet together for a brief welcome and film introduction, break to individually watch the film, and then return for discussion.  
The film can be viewed without cost using KANOPY, an on-demand film streaming service available for free to library card holders. So, get your library card, signup for Kanopy, and then join us to watch and discuss the film.  
FRIDAY, MARCH 31, 2023, 7-9 PM



It won't take long to fall in love with the subject of Painted Nails, Van Hoang, a Vietnamese nail salon owner who serves an ethnically diverse group of working-class women with acrylic nails and intricate airbrush designs in the Mission District of San Francisco. With the discovery that her health problems, which include two miscarriages, are the result of the toxic chemicals in products used in her salon, Van unintentionally becomes a contemporary Norma Rae or Erin Brockovich. Van's personal story encompasses both the immigrant's journey and one woman's rise to activism in the face of adversity.
Painted Nails brings us unprecedented insight into the personal nature of the political movement to regulate one of the fastest growing industries in the U.S. Major loopholes in the federal law dating back to 1938 allow the $50 billion cosmetics industry to put unlimited amounts of chemicals into personal care products with no required testing, monitoring of health effects, or labeling requirements.
To join us for some serious movie-night fun, request a movie night zoom link by emailing:  portlandrisingprograms@gmail.com.
---
Mobilize Your Support for Eviction Representation for All!

YES on Measure 26-238 in May!
As we move closer to May, the momentum for Eviction Representation for All is picking up!
The campaign has surpassed 60 endorsements by local housing, labor, faith, legal, and community organizations
! Special recognition to JWJ member organizations: PROTEC 17, Alliance for Democracy, Unite Oregon, SEIU Local 503, Laborers Local 483, OFNHP, Portland Association of Teachers, Economic Justice Action Group at First Unitarian, Portland IWW, PSUFA-AFT, PSU-AAUP, AFSCME Local 88, AFSCME Local 328, ILWU Local 5, IATSE Local 28, 350PDX, Teamsters Local 206, AFSCME Local 189, ATU Local 757, AFM Local 99, NALC Branch 82, CWA Local 7901, Community Alliance of Tenants, National Lawyers Guild, Sunrise Movement PDX, and more!
Get in touch with eratenants@gmail.com if your organization can join JWJ with your endorsement or to schedule a presentation for your organization!
WHEN:  Thursday, March 23rd @ 7 PM
WHERE: The Worker's Tap (101 SE 12th Ave, Portland, Oregon)
Sign up here to talk to voters!
Canvass voters across Multnomah County! Rain or shine. Dress for the weather! Coffee provided. Plan for 2 1/2 hours for training and then doorknocking! With your help, we can keep our community safe and housed!
Share this information!
The campaign's opponents are well-funded, and they are mounting a highly misleading campaign against the measure. Learn more about the mechanism to fund eviction defense,
capital gains taxes,
and share
this helpful post
! And check out this Letter to the Editor:
Multnomah Measure a win for small landlords!
---
PSU Adjuncts Rally for Fair Pay!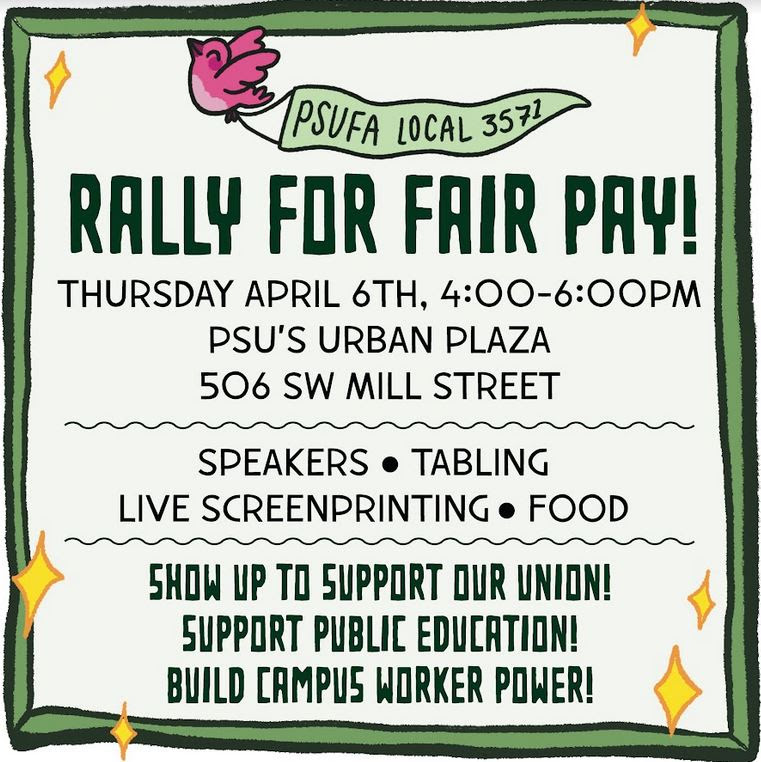 PSU's adjunct faculty union, PSUFA, represents over 1000 adjunct faculty and researchers who teach almost 40% of all classes at PSU. They are entering into bargaining sessions to advocate for fair pay, cost of living increases that keep up with inflation, and access to meaningful benefits. We need to end the exploitation caused by the academic gig economy and stand strong together in support of public higher education that protects workers so we can provide the best to our students.

 

Thursday, April 6th from 4 – 6pm
PSU Urban Plaza (506 SW Mill St)

 

For more about PSUFA's demands and ways to support, visit

PSUFA.org

and follow

@psufalocal3571

on instagram. For more information or to get involved please contact PSUFA Chair of Political Action, Erica Thomas at

psufa.erica@gmail.com
---
Oregon Right to Rest
The Oregon Right to Rest Act (R2R Act) is a response to the criminalization of unhoused people through: citations, harassment, and arrest for sitting and lying in public spaces. Poor and unhoused people are most often prosecuted for "crimes of survival," like sitting, lying down, or sleeping in public space. As people accrue charges, it becomes virtually impossible for them to access essential resources. Criminalization directly blocks pathways to stability and prolongs our history of exclusionary laws. In order to protect people from discriminatory enforcement of laws that prevent rest, the Right to Rest Act would provide a formidable defense against the discriminatory use of time, place and manner restrictions, in addition to enumerating affirmative rights for all people to freely exist in public space. Read more about
Oregon Right to Rest Act, HB3501 here
, and consider having your organization endorse the Right to Rest Act, too!
---
SAVE THE DATE: Portland Troublemakers School
Sat. May 6, 9am-4pm
McDaniel High School, 2735 NE 82nd Ave
Modeled after national Labor Notes conferences, this event features face-to-face meetings where union activists share tactics and swap notes, the heart of the learning that takes place at the Troublemakers School. Workshops will discuss creative organizing strategies, winning contract campaigns, organizing new workers, and many practical skills like developing leaders and using social media. Registration coming soon! Meanwhile, you can help by spreading the word and perhaps asking your union to co-sponsor the event.

---
Send TriMet a Message: No Fare Increase!


The TriMet Board of Directors is voting on a fare increase proposal this May, so we need to convince the directors to vote NO.
Here's how you can help:
1.
Give testimony
either in-person or virtually at TriMet's monthly board meetings. The next board meetings are Weds, April 26 and May 24th. Public commentary starts at 9am. Sign up between 7:45 – 9:30am the day-of in person or in writing by noon the prior Tuesday (April 18th and May 16th) Visit the
TriMet website
for more information on how to give public comments.
2.
Submit written testimony
to
boardtestimony@trimet.org
. Here's a sample message:
I'm opposed to TriMet's proposed fare increase, which will make transit less accessible for young people, seniors, veterans and others struggling to make ends meet. We should be working to expand and incentivize mass transit and create a better future by going fareless. That can be easily done by raising the payroll tax on high and extremely high salaries.
---
Join us for "Rumble on the River Community Forum 6: What's Up with Zenith Energy and the Critical Energy Infrastructure Hub in Portland."
A coalition of 26 neighborhood, river and climate advocacy organizations sponsor this series of free forums to increase public awareness of the safety, health and seismic risks associated with the Critical Energy Infrastructure (CEI) Hub and Zenith Energy. In addition to the existing and potential harms of the CEI Hub, the panelists will also discuss the City's recent and unexpected approval of the Land Use Compatibility Statement for Zenith Energy, which lies within the Hub.


Thursday, April 20, 6:00: Doors Open & Organizational Tables. 6:30: Panel
St Johns Church (8044 N Richmond Ave, Portland, OR, 97203)
SPEAKERS:
– Yumei Wang – Affiliate Faculty and Senior Advisor in the Civil Engineering & Environmental Engineering Dept. and the Institute For Sustainable Solutions-PSU
– Cager Clabaugh – Rank and File Member and Washington Area District Council Delegate with Local 4 (Marine Clerks & Supercargoes) of the International Longshore and Warehouse Union
– Sharon Meieran – Multnomah County Commissioner-District 1, Emergency Physician
– Sarah Taylor – Midwife, Educator, Linnton Neighborhood Association President, Portland Harbor Community Advisory Group, Braided River Campaign
Share the flyers
here
and
here
!
RSVP and Share the Facebook
event page here!

If you haven't attended a Rumble forum in the past, click here to check out the recent presentation held March 10th at the 41st Annual Public Interest Environmental Law Conference in Eugene, OR!
---
Steering Committee


Are you organizing actions around workers rights and social justice, and seeking broader labor-community support? Join JWJ's Monthly Steering Committee Meeting to request support for your struggle! We meet over Zoom the first Monday of the month from 5:30-7pm!
Request support here and share with us at our next meeting on Monday, April 3rd!

Click Here to send an email to Sarah for information on how to join!
---
Portland Rising


Portland Rising is a committee that hosts discussions, panels, film screenings and other educational events about the importance of unions, and to draw connections between seemingly different campaigns based on the idea that all of our struggles are intersectional and interrelated.



Portland Rising is excited to announce the return of our online Friday night movie showings. As before, we plan to show a movie every other month (with a holiday exception), on the last Friday of the month, with a 7 pm start. What follows is a list of our scheduled films and their show dates:

Painted Nails—March 31, 2023

The Killing Floor—May 26, 2023

UberLand—July 28, 2023

Sorry to Bother You—September 29, 2023

Visit our Labor Movies Library for information about these and other fine films.

Looking forward to seeing you at one of our upcoming Night-in At The Movies gatherings.
To stay apprised of these events to request the information for the next showing, send a line to portlandrisingprograms@gmail.com.

---
Health Care Committee
The JwJ Health Care Committee works to promote healthcare as a human right at the local, state, and national level, to defend union health plans, and to fight for fair, equitable and comprehensive health care that covers everyone and is paid for with public funds. The Committee continues to advocate for a statewide single payer system, fight the privatization of Medicare, and in support of trade policy to make COVID tests and treatments to be free, accessible, and globally available.



Click Here to send an email to the Health Care Committee chairperson to get on the committee's email list and for information on how to join the next virtual meeting!
---
Faith Labor Committee
The Faith Labor Committee is made up of labor and faith activists and leaders who come together to build sustained relationships between the labor community, and individuals and congregations in the faith community. Based on these relationships, the committee works to develop and implement outreach strategies to facilitate the faith community showing up in support of the struggles of working people in our city.

On Tuesday, February 21st, JWJ held our 21st Annual Faith Labor Breakfast! In case you weren't able to join us, or you simply wish to re-live the highlights, catch up here! JWJ shares our heartfelt thanks for the many ways you help make events like these possible, as well as our daily work! Read more here: Organize, Unite, Win: JWJ's 2023 Faith Labor Breakfast Served Up Solidarity!
Walk with us as we continue the work of advocating for justice and fairness in the workplace! If you are a worker in struggle, we'd love to invite you for solidarity! Send a message to Hannah at hsloanebarton@oregonafscme.org or Dan at dbrown@fullerton.edu to plug into our list and upcoming meetings!
---
Global Justice Committee


Portland Jobs with Justice has long history of international solidarity work and trade justice. For the last two years, we've organized with Trade Justice Education Fund (TJEF) for workers' rights to be centered in trade deals.


Listen to Yimei Shao, Trade Justice Education Fund organizer and JWJ Global Justice Chair discuss the Indo-Pacific Economic Framework (IPEF), the latest free trade pact challenging the US and Asian-Pacific labor movements here on Labor Radio!

The Committee continues to support efforts to uplift the dignity, rights, and wellbeing of workers in the global supply chain – including seafarers and garment producers. On Friday, December 2nd, the committee hosted Kalpona Akter, president of Bangladesh Garment & Industrial Workers Federation (BGIWF) to protest adidas over the extreme anti-union retaliation and wage theft garment workers face. Join the next action, listed above! Get in touch with billy@payyourworkers.org to plug in and to endorse actions!

Want to get involved? Write yimei@tradejusticeedfund.org


Follow us on Instagram here!
---
Climate Jobs Committee
The Climate Jobs Committee works at the intersections of the labor and climate justice movements. Climate Jobs has continued to advocate for and champion the Portland Clean Energy Fund and to connect union members to its benefits. Climate Jobs continues to advocate for legislation to protect workers, SB 907, Right To Refuse Hazardous Work and SB 592, Keeping Oregon Workers Safe. Climate Jobs is dedicated to meaningful climate action and has continued to mobilize with allied organizations to demand the City uphold it's commitment to phase out fossil fuel use and expansion. Laurie King spoke at the first of several community forums about the threat of Zenith's oil trains operating in an earthquake liquefaction zone. Climate Jobs has supported the Stop Zenith Coalition's subsequent forums and actions, including City hall testimony and actions to protest the City of Portland's renewal of a Land Use Compatibiity Statement (LUCS.) Climate Jobs and community members have called for the Bureau of Development Services to rescind the Zenith LUCS permit, and for City Council to hold a public hearing, as the permit was granted without any public process, and after years of engagement from concerned community members. Join the next forum on April 20th, listed above!

Click Here to send an email to the Climate Jobs chairperson to join the email list and for information to join the next meeting!