It's just over a week away, Portland Jobs with Justice 2023 Annual Dinner! Will you be there? With your support, our organization has been a hub of support for working people in our city for over thirty years.
A big thank you to our sponsors supporting this event and who help power our everyday work:
Presenting Sponsors: SEIU Local 503, Oregon AFSCME
Solidarity Sponsor: AFSCME Local 88
Workers' Wonder Sponsors: Portland Area Local APWU, Oregon Nurses Association, OFNHP – AFT Local 5017, Portland Association of Teachers, and PSU-AAUP
Pledging Power Sponsors: ILWU Local 5, NALC Branch 82

It's not too late to claim your tickets or sponsorship, or chance to meet keynote speaker, Kim Kelly! From Teen Vogue to her own book, Fight Like Hell: The Untold History of American Labor, Kim has spent countless hours writing about the stories of workers everywhere, particularly the most marginalized. Check out Kim's recent article on the SAG-AFTRA Strike!

Thursday, September 7, 2023 | 6:30pm-9:00pm
The World Forestry Center in Miller Hall
4033 SW Canyon Rd. Portland, OR 97221

Masks are required when not eating or drinking.
Thank you for keeping our communities safe! Contact Jill at Jill@jwjpdx.org for questions.
Contribute to the scholarship fund so that a low wage, unemployed, or striking worker can attend
Hot Labor Summer of Solidarity!


It's a hot labor summer turning into a hot labor fall, with no signs of cooling. Workers are fired up, strike-ready, and calling for your solidarity!

Thousands of writers and actors are holding strong in their strike against Hollywood executives and streaming services!

---
Starbucks workers continue bold labor actions.


Last week, Starbucks workers at the unionized Stucki Ave location in Hillsboro took matters into their own hands and struck their store caught on fire and workers were forced to return to work and clean up debris with no PPE or safety guidance.

Customers can join the fight on the next day of action September 14th!
---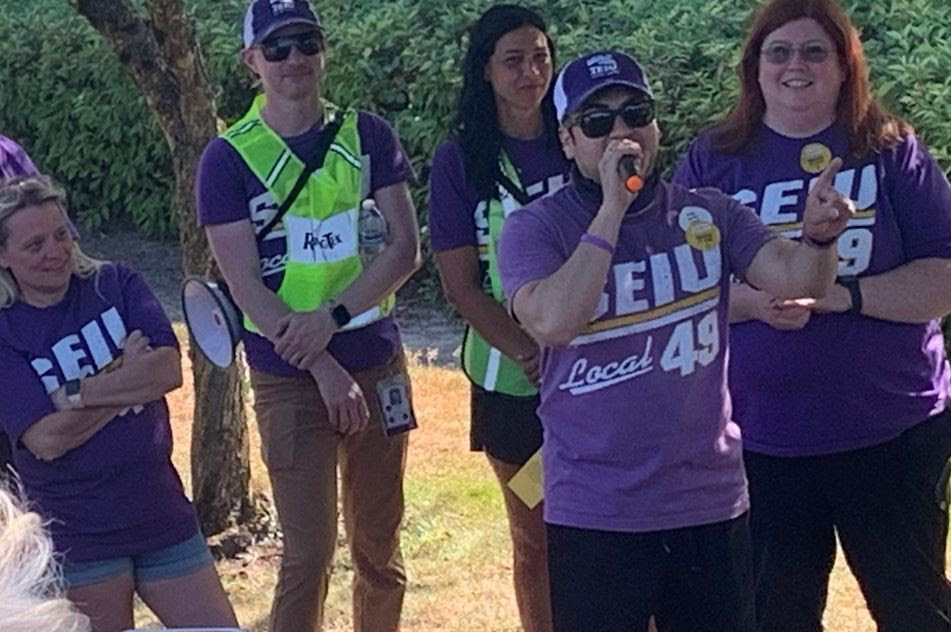 "Would be the largest strike of health care workers in the history of this country."
On Thursday, The Coalition of Kaiser Permanente Unions, which represents more than 85,000 health care workers, including SEIU Local 49 members, announced that its members would vote to authorize a strike through Sept. 13.

Pledge to support Kaiser workers and patients here: https://www.seiu49.org/kp-support
---
On Friday, 97% of UAW members voted YES to authorize a strike if the Big Three automakers don't give them a fair deal.

Sign the petition to send a clear message that autoworkers have the support of people like you!
Learn more at www.solidarityhub.org/uaw
---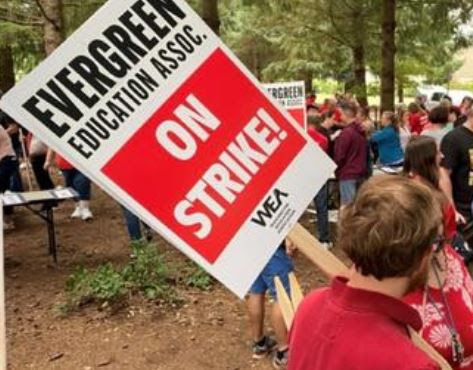 On Strike in Southwest Washington!

On Monday, Camas Education Association went out on strike, and today, Evergreen Education Association (Vancouver, WA) is on strike for the support their students need!
Follow the struggle!
Sign the petition!
Join a picket line: https://www.evergreenps.org/schools
---
Modeling a collaborative approach with organized labor.
Doe Donuts voluntarily recognized its workers union, Doe Donuts Workers Union, a member of Doughnut Workers United! In a joint press release, ILWU Local 5 and Fang! Pet and Garden Supply and Salty's Pet Supply announced they have finalized their collective bargaining agreement. Fang! And Salty's are the first unionized pet supply stores in North America!
---
Strike-to-win new contracts!
Oregon Nurses Association announced that Nurses at Providence Portland Medical Center and Seaside voted overwhelmingly to approve their new contracts after months of negotiations, rallies, pickets, and a five-day strike!
Recently, the Northwest Labor Press
spoke to JWJ
about how a growing number of workers see collective action as a powerful tool to force change.
Click here for more analysis on Hot Labor Summer!

---
Pledge Solidarity with Portland Strike Ready Teachers!

Portland teachers are fighting for
Safe, Sustainable and Equitable Schools for Every Student
. To win this union contract will take all of us — teachers, parents, students, and community members (especially unions, neighborhood associations, faith organizations, businesses, and elected officials.)
GET INVOLVED!
We're starting to leaflet parents as they drop off/pick up their kids at schools… Leaflet, petition, door-knock, phone bank and canvass businesses with window stickers (this Saturday)
Sign the pledge to get involved!
Organizations: You can help by passing a resolution in your union or organization and engaging your members! Reply to this email for more information.
Sign the petition — https://tinyurl.com/SupportPDXTeachers

Join the next planning meeting of the Portland Teachers Solidarity Campaign's next meeting on
Wed, Sept 6
from
7 – 8:30pm
by zoom. Reply to this email to request the login!
On the airwaves:
Monday's episode of Labor Radio
on KBOO featured Tiffany Koyama Lane and Matt Reed, rank-and-file leaders in the Portland Association of Teachers. Tiffany and Matt lay out their working conditions, bargaining demands and teacher-parent-community strategies to win a transformative contract that benefits whole families and neighborhoods.
---
What is IPEF? Webinar


The Indo-Pacific Economic Framework (IPEF) is being developed during the 2023 APEC meeting cycle. It will attempt to write the rules for billions in the interest of the few.


Join the No to APEC Coalition to learn more, and how we can resist!
---
Trans Day of Solidarity
The CIU, which is composed of unions such as Doughnut Workers United, Burgerville Workers Union, Restaurant Workers of Portland, Buffalo Exchange Workers Union, and Market of Choice Labor Union will hosting the first annual Trans Day of Solidarity (TDS)!


In the current political climate within the United States, the CIU believes that organizations such as unions can be a beacon of hope for trans individuals against employers who are increasingly turning their backs on LGBTQ+ peoples and embracing fascist politicians and political movements. Join us at Pioneer Courthouse Square at 4pm on Saturday September 2nd to hear from trans union members on how unions have benefited them, failed them, and what unions across the country could be doing to benefit and protect not only their own trans union members, but all trans people within all parts of the United States and beyond! After the rally, at about 5pm, the CIU will lead a march and picket through downtown Portland, visiting multiple union shops along the way! We will start the march at Pioneer Courthouse Square and end with a picket in front of Voodoo Doughnut! Please show up to show your support for the working class and trans people everywhere!

Saturday September 2nd, at 4pm
Pioneer Courthouse Square (715 SW Morrison St )
Share the Facebook event page here!
---
Powell's Books No Labor Day Strike!


The photo to the left depicts Jobs with Justice and community members gathered on the sidewalk outside of Powell's Books 23 years ago in support of Powell's employees campaign for a union contract with the International Longshore and Warehouse Union (ILWU) Local 5. It was featured at our February 2022 exhibit, Building Solidarity, at the Oregon Historical Society and can be found in the digital archives!

ILWU Local 5 is currently negotiating for its 8th contract with Powell's and now asks for your solidarity to push Powell's to bargain fairly with the workers who have made its longevity and success possible!
On Monday, September 4, workers at Powell's Books — represented by ILWU Local 5 since 2000 — will be going on a one-day Unfair Labor Practice Strike. This will be the first strike for Powell's workers in 20 years! Come join the picket line!


Picketing and speakers will start at 9:30am on September 4th at all three locations, end time TBD.
Powell's City of Books — 1005 W Burnside St, Portland, OR
Powell's Books on Hawthorne — 3723 SE Hawthorne Blvd, Portland, OR
Powell's Books at Cedar Hills Crossing — 3415 SW Cedar Hills Blvd, Beaverton, OR


Join the picket line nearest you, then head downtown at 1pm for a rally at the City of Books!
If you're not able to join the picket line, you can still support striking Powell's workers in the following ways:
Help workers get strike-ready
by supporting the fundraiser at Workers Tap tonight, 8/30!

Do not cross a picket line
at any Powell's Books location on September 4th.
Do not shop
at any Powell's Books location on September 4th.
Donate
to the ILWU Local Strike fund:
www.ilwulocal5.com/supportSign the petition
, letting Powell's leadership know you support workers' demands:
bit.ly/tell-powells
---
Add Your Name in Solidarity with PSU Adjuncts!

Over 1,000 adjunct faculty are employed at Portland State University. Faculty have endured years of inequitable and degrading working conditions and wages that have not kept pace with the cost of living.
PSUFA asks for your signature on the "Community Letter of Solidarity" and your support as faculty advocate for themselves and their students. Will you please review the letter and consider signing on in support?  
To read the letter and sign visit this link:  https://forms.gle/fpQPxzAqDhotHEDx7

PSUFA bargaining campaigns and working conditions have recently been covered by the Portland State University Vanguard newspaper, Oregon Business, and more press coverage is forthcoming: https://issuu.com/dailyvanguard/docs/_08.03.2023_final/6
---
Steering Committee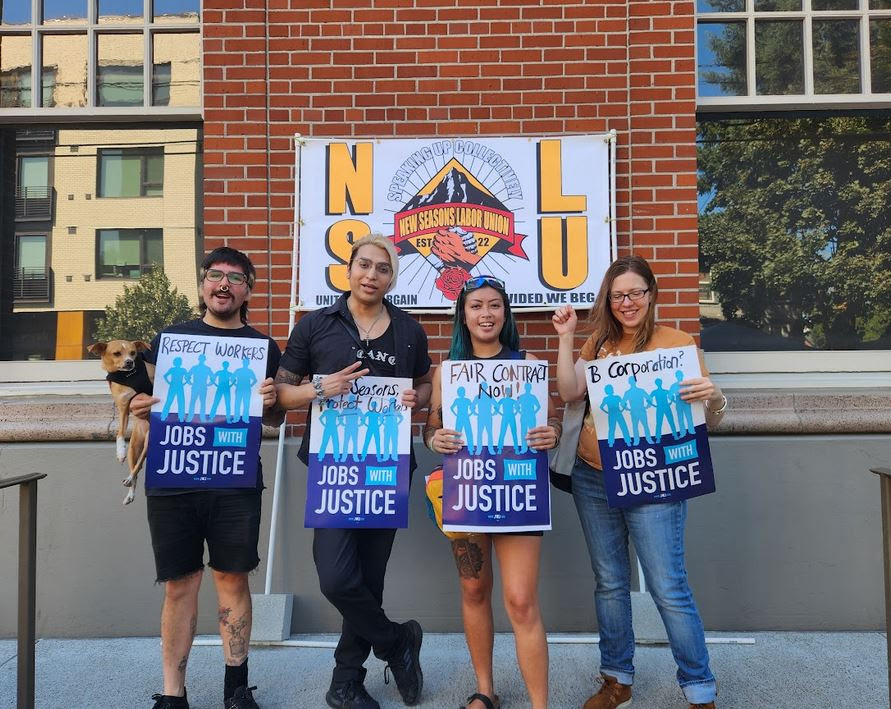 Are you organizing actions around workers rights and social justice, and seeking broader labor-community support? Join JWJ's Monthly Steering Committee Meeting to request support for your struggle! We meet over Zoom the first Monday of the month from 5:30-7pm.


Request support here and share with us at our next meeting on Monday, September 11, moved to the 2nd Monday due to the Labor Day Holiday. Click Here to send an email to Sarah for information on how to join!
---
Portland Rising
Portland Rising is a committee that hosts discussions, panels, film screenings and other educational events about the importance of unions, and to draw connections between seemingly different campaigns based on the idea that all of our struggles are related.
Portland Rising has updated its
Why Unions Matter Library
. Check out the latest articles in the sections on Worker Organizing Efforts, Anti-worker Threats and Actions, Labor Law and Worker Rights, the Union Difference, and Worker Centers and Labor Boards. The Library is always open!
And, with the nice summer weather, don't forget to visit and use our
Portland Labor History Tour
. A new tour site has recently been added! Finally, our "
Night-in At The Movies
" series will be back in September with a showing and discussion of the Boots Riley film, "Sorry to Bother You." What follows is a list of our scheduled films and their show dates:
Sorry to Bother You—September 29, 2023
Check out the Portland Labor History Tour with some recent additions!
Visit our Labor Movies Library for information about these and other fine films.
Looking forward to seeing you at one of our upcoming Night-in At The Movies gatherings.
To stay apprised of these events to request the information for the next showing, send a line to portlandrisingprograms@gmail.com.

---
Health Care Committee


The JwJ Health Care Committee works to promote healthcare as a human right at the local, state, and national level, to defend union health plans, and to fight for fair, equitable and comprehensive health care that covers everyone and is paid for with public funds. The Committee continues to advocate for a statewide single payer system, fight the privatization of Medicare, and in support of trade policy to make COVID tests and treatments to be free, accessible, and globally available.

Click Here to send an email to the Health Care Committee chairperson to get on the committee's email list and for information on how to join the next virtual meeting!
---
Faith Labor Committee


The Faith Labor Committee is made up of labor and faith activists and leaders who come together to build sustained relationships between the labor community, and individuals and congregations in the faith community. Based on these relationships, the committee works to develop and implement outreach strategies to facilitate the faith community showing up in support of the struggles of working people in our city. Walk with us as we continue the work of advocating for justice and fairness in the workplace! If you are a worker in struggle, we'd love to invite you for solidarity! Send a message to Hannah at hsloanebarton@oregonafscme.org or Dan at dbrown@fullerton.edu to plug into our list and upcoming meetings!
---
Global Justice Committee


Portland Jobs with Justice has long history of international solidarity work. As Portland is both a union town and the sportswear capital of the world, we have stood with global garment workers pressuring adidas leadership to make whole the workers whose wages were stolen during the pandemic. (To plug into that work, write billy@payyourworkers.org.)
Recently, Committee members have supported the 44th anniversary of PCASC which organizes to build solidarity with Latin America (pictured.)
You are cordially invited to help fill the ICHRP tables at the Foundation for Philippine Progress (FPP) 5th Gala Celebration! FPP is a partner of ICHRP Portland, and is dedicated to empowering and engaging projects in the Philippines to secure quality health, education, and basic human rights for every Filipino. FPP is holding its 5th annual Gala Celebration on October 22, 2023 beginning at 5pm to raise funds for its livelihood projects and humanitarian efforts in the Philippines. It will be a fun evening of Filipino music (kundiman guitar ensemble), traditional and contemporary Filipino cuisine, socializing, and sharings about the great impacts of FPP's work. Please reach out to bravermanjessie@gmail.com if you are interested in attending. Join this special evening aimed at striking a sense of Filipino pride and love for the Philippines.
---
Climate Jobs Committee


The Climate Jobs Committee works at the intersections of the labor and climate justice movements. Climate Jobs has continued to advocate for and champion the Portland Clean Energy Fund and to connect union members to its benefits. Climate Jobs continues to advocate for legislation to protect workers and is dedicated to meaningful climate action, including mobilizing with allied organizations to demand the City uphold it's commitment to phase out fossil fuel use and expansion. Laurie King spoke at the first of several community forums
about the threat of Zenith's oil trains operating in an earthquake liquefaction zone. Climate Jobs has supported the Stop Zenith Coalition's subsequent forums and actions, including City hall testimony and actions. Check out the recording of the most recent forum here, here! SPOILER ALERT: A public records request confirmed what we all suspected – City Council coordinated behind closed-doors with Zenith Energy lobbyists to approve a land use permit even as Zenith sued the city last year. You can read the reporting here and here.
Click Here to send an email to the Climate Jobs chairperson to join the email list and for information to join the next meeting!