Secrets of a Successful Organizer: Beating Apathy
Is apathy real? What is holding our coworkers back? How do we overcome fear, hopelessness, confusion, and division? Come to this workshop, based on the popular organizing manual Secrets of a Successful Organizer, where you will learn practical organizing tools for engaging your co-workers, taking action, and getting results. Facilitated by the Portland DSA Labor Working Group.

Sat, Nov 7th from 4-5:30
Click Here to sign up!
Click Here to share the event page on Facebook!
---
Black Lives Matter.
Count All the Votes.
Defend workers rights.
Will all votes be counted?  Will the people or the Supreme Court select the next president? Will we face a president who refuses to accept the results of the vote?
No matter what happens, we are coming together!
Let's show up, together, as labor and community preparing to use our leverage to demand that every vote must be counted and voters must determine the results of an election. Defend Democracy Coalition in collaboration with Jobs with Justice, Labor Action to Defend Democracy, and J.U.I.C.E. will host a mobilization at Federal sites.
On Sunday, November 8th at 2pm, let's realize our power together. Union members, bring banners and signs.
Rally at Terry Schrunk Plaza , March to Federal Building.
Click Here for the event page!
---
Rise Up for Medicare for All!
Defend coverage for pre-existing conditions. Defend the Medicaid expansion. Fight for Medicare for All.


On November 10th, the Supreme Court will decide whether to strip health insurance from millions of Americans in the middle of the COVID-19 pandemic—the same pandemic that has already claimed approximately a quarter of a million American lives, and left millions with long-term health effects. It's clear that the American healthcare system is at a tipping point.
At this moment of change, we must fight to defend protections for pre-existing conditions and the Medicaid expansion. However, we must also seize this moment to demand a system that leaves no one behind. We can't go back. We must move forward to Medicare for All.
Join us at this socially distanced rally and press conference in support of Medicare for All. Bring a mask, bring a sign (if you have one), and bring a friend. Together, we can win this fight.
This event is co-sponsored by Health Care for All Oregon – Action, Portland Democratic Socialists of America & Portland Jobs with Justice.
---
Rally for OHSU Hillsboro Workers' Rights!

Workers at OHSU Hillsboro Medical Center (formerly Tuality Health Care), are exercising their legal right to form a union and bargain collectively. Unfortunately, some workers are being dissuaded from joining in union with threats and intimidation from hospital management. Workers will not stay silent while their hard working coworkers in EVS, Food and Nutrition, and other departments are subject to illegal and disrespectful treatment.
Sign this petition to CEO Lori James-Nielson and HR Director Kelley Frengle to demand that OHSU Hillsboro Medical Center follow the law and stop threatening their employees!
Join workers for the petition delivery and rally for their right to unionize!

Wednesday, November 11 at 11am
In front of OHSU-Hillsboro Medical Center
335 SE 8th Ave. Hillsboro, OR
---
Rally to Save Our Public Postal Service!

Join a national day of action, called by the American Postal Workers Union, to fight cuts, closures, mail delay, understaffing, outsourcing and privatization of the people's postal service. The USPS will run out of money in 2021 without Covid-related relief. The Postmaster General Louis DeJoy has vowed to implement massive work-hour reductions which will degrade service, destroy jobs, and dismantle our national treasure, the people's postal service. Let's turn up the heat on Congress and the Postmaster General to save our service. Hosted by Communities and Postal Workers United.

Tuesday, November 17 from 4-5pm
East Portland Post Office (1020 SE 7th)
Click Here for the event page!
---
Runaway Inequality Training Workshop

Runaway inequality will not cure itself.
It will take a massive popular movement to counter runaway inequality.

Les Leopold, author of Runaway Inequality: An Activist's Guide to Economic Justice founded this educational campaign. The workshop will be led by Kris Raab.

Join us as we learn about the causes and solutions of income and wealth inequality, and how to build a mass movement to solve it. You will be trained in this material and how to present it to your community/organization. Co-sponsored by Portland Jobs with Justice, Oregon Center for Public Policy, Economic Justice Action Group of the First Unitarian Church, and more!

Mondays, November 16, 23, 30 and December 7, 2020
6-8pm on Zoom
REGISTER TODAY – SPACE IS LIMITED!
There is no charge for the workshop but you must have a hardcopy printout of the Runaway Inequality workbook in order to participate (90 pages). You will receive a zoom link and PDF of the workbook when you register. Contact cyost@uuma.org for any questions.
---
Actions to Take
Nurses everywhere are joining together to tell Providence it's time to Protect People, Not Profits! Show your support by sharing a sentence about how Providence's cuts and failure to support workers affects you. Share Your Story!


TAKE ACTION NOW! Show support for Providence Milwaukie workers fighting for a first contract! It is now more important than ever to support and care for the workers who have been caring for us and our communities!
---
JwJ Committee Meetings:
---
Steering Committee

The Portland Jobs with Justice Steering Committee meets on the first Monday of each month.
This meeting is open to the public and our membership. At this meeting we discuss and vote on supporting, endorsing, and organizing events that fit into the mission of Jobs with Justice. It is also a great way to make announcements to our membership and meet those involved with the important work of labor-community organizing.
Our next Steering Committee meeting is Monday, December 7 from 5:30-7pm by teleconference. Click Here to send an email to the committee liaison for information on how to join by teleconference.
If your organization would like to make an announcement or would like JwJ to vote to endorse or otherwise support an event or campaign at our Steering Committee meeting, all requests must be submitted by 12:30pm on Friday, December 4th. Priority is given to requests by organizations that are members of the Portland Jobs with Justice coalition.
Click Here to fill out the Steering Committee agenda item request form. Creative digital, call-in, text, and sign-on campaigns are welcome!
Portland Rising
Portland Rising is a committee that hosts discussions, panels, film screenings and other educational events about the importance of unions, and to draw connections between seemingly different campaigns based on the idea that all of our struggles are intersectional and interrelated.
For information on how to join our next committee meeting, please email portlandrisingprograms@gmail.com.
Working: A Photo Series


Portland Rising is calling on working people from all walks of life and all workplaces to submit photos of yourself at work!
Everyone who works has a workplace and work "tools." Your own workplace is a familiar site, but often hidden to anyone but your coworkers or yourself. Portland Rising wants to turn what might be a solitary experience – what it's like at your workplace – into a collective one.
Click Here for more info and to submit your photo!


---
Health Care Committee
The JwJ Healthcare Committee works to promote healthcare as a human right at the local, state, and national level, to defend union health plans, and to fight for fair, equitable and comprehensive health care that covers everyone and is paid for with public funds.
The November committee meeting is scheduled for Tuesday, November 17 from 5:30-7pm by virtual meeting.
Click Here to send an email to the Health Care Committee chairperson to get on the committee's email list and for information on how to join the virtual meeting.
---
Faith Labor Committee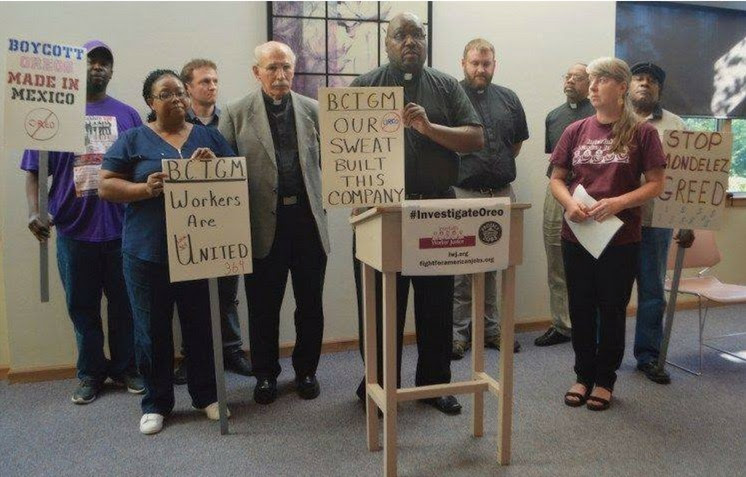 Our Faith Labor Committee's next meeting is Wednesday, November 25th from 12-2pm by virtual meeting.

Click Here to send an email to get on the Faith Labor Committee's email list and for information on how to join the virtual meeting.
The Faith Labor Committee is made up of labor and faith activists and leaders who come together to build sustained relationships between the labor community, and individuals and congregations in the faith community. Based on these relationships, the committee works to develop and implement outreach strategies to facilitate the faith community showing up in support of the struggles of working people in our city.
---
Global Justice Committee


Portland Jobs with Justice has long history of global justice and international solidarity work ranging from organizing caravans to the 1999 WTO summit in Seattle and supporting striking GM in workers in Columbia, to mobilizing war resistance and exposing the lies of companies like Nike about their treatment of workers.
Click Here to send an email to the Global Justice committee liaison for information on the next upcoming meeting and to join!
---
Climate Jobs PDX
The Climate Jobs PDX project works at the intersections of the labor and climate justice movements, and has been integral to work on passing the Portland Clean Energy Fund, and to helping students organize the recent Climate Strike rally and march in Portland.
Our next meeting is Wednesday, Nov 18 at 5:30pm.
Click Here to send an email to the Climate Jobs chairperson to join the email list and for information to join the virtual meeting.
---