Solidarity Calendars
Current Solidarity Calendar | Archive of Solidarity Calendars
The Solidarity Calendar is a monthly notification of actions and events organized by Portland JwJ or are endorsed and sponsored by our Steering Committee. Steering Committee meetings are held on the first Monday of each month at 5:30pm in our office conference room at 1500 NE Irving Street, Suite 585 Portland, Oregon 97232.
The Solidarity Calendar is available on the first Wednesday of each month. If you would like to receive a Solidarity Calendar via email join our mailing list!
Current Solidarity Calendar
March 2020 Solidarity Calendar
In this extraordinary time of coronavirus spread, we have taken preventative measures to protect our at-risk community members. We have closed our office until further notice. Our in-person committees will move to teleconference or virtual, and large in-person coalition events have been cancelled or postponed.
St. Johns 1910: Riot and Rebels – POSTPONED, Updates Coming Soon!
The commemoration event celebrating Indian laborers resistance scheduled for March 21st 
will be 
POSTPONED 
with updates coming soon.
Read further for the local history of Indian workers resistance: On the night of March 21, 1910, St. Johns erupted in anti-Indian violence perpetrated by many white laborers, a St. Johns Review Reporter, the town's mayor, the police chief, and two police officers. They attempted to terrorize and expel 200 Indians living in bunkhouses at the outskirts of town – and a few in downtown apartments – and working at the Monarch Lumber Mill and St. Johns Lumber Co. In their wake, government entities refused to prosecute and punish perpetrators and, instead, enacted proscriptions against the mobs' victims. Declaring "we have no protection," Indian workers resisted and broadened and sustained their resistance including a media campaign calling for prosecution of the racists and won allies to their cause. Most significantly, after the St. Johns riot and protracted legal battle, they became a center of anti-colonial organizing. That organizing culminated in the formation of Ghadar – a radical anti-British movement of laborers and intellectuals, Sikhs, Hindus and Muslims – in Astoria Oregon in the late spring of 1913
---
Until the Last Child is Free #Abolish ICE – POSTPONED TO JUNE 20th, Updates Coming soon!
Hector Canedo-Sanchez is a community member and elementary school teacher in Portland's 
Montavilla neighborhood. He teaches Spanish immersion at Bridger K-8 where nearly two-in-five students are Hispanic and one-quarter are learning English as a second language. ICE is threatening to deport Hector, the first in his family to go to college, for simply being a recipient of DACA. Hector is also father to a child who would remain in Portland if this injustice is allowed to occur. Teachers, families of students, and community supporters have been writing letters calling for electeds to use their public platform to keep Hector in Portland. We must come together to defend immigrants in our community, demand an end to the deportations, and demand the end of child and family separation!
Click Here to hear Hector's story, in his own words, in this story on KGW.
---
JwJ Committee Meetings:
---
Steering Committee
The Portland Jobs with Justice Steering Committee meets on the first Monday of each month.
This meeting is open to the public and our membership. At this meeting we discuss and vote on supporting, endorsing, and organizing events that fit into the mission of Jobs with Justice. It is also a great way to make announcements to our membership and meet those involved with the important work of labor-community organizing.
Our next Steering Committee meeting is
Monday April 6 from 5:30-7pm
by teleconference.
Click Here to send an email to the committee liason for information on how to join by teleconference.
If your organization would like to make an announcement or would like JwJ to vote to endorse or otherwise support an event or campaign at our Steering Committee meeting, all requests must be submitted by 12:30pm on Friday, March 27th. Priority is given to requests by organizations that are members of the Portland Jobs with Justice coalition.
Click Here to fill out the Steering Committee agenda item request form.
---
Portland Rising
Portland Rising is a JwJ committee that hosts discussions, panels, film screenings and other educational events about the importance of unions, and to draw connections between seemingly different campaigns based on the idea that all of our struggles are intersectional and interrelated.
The committee meets on the second Wednesday of each month from 6:30-8:30pm. The April meeting of Portland Rising is CANCELLED.
Click Here to send an email to the Portland Rising committee chairperson to get on the committee's email list and for the latest updates on committee work!
---
Health Care Committee
The JwJ Healthcare Committee works to promote healthcare as a human right at the local, state, and national level, to defend union health plans, and to fight for fair, equitable and comprehensive health care that covers everyone and is paid for with public funds.
The next committee meeting will take place on Tuesday April 21 from 5:30-7pm
Click Here to send an email to the Health Care Committee chairperson to get on the committee's email list and for information on how to join by teleconference.
---
Faith Labor Committee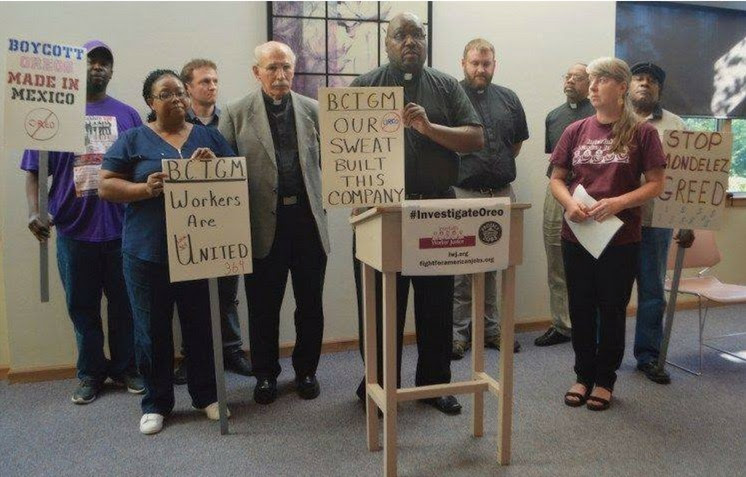 Our Faith Labor Committee's next meeting is Wednesday, March 25 from 12-2pm by teleconference.
Click Here to send an email to get on the Faith Labor Committee's email list and for information on how to join by teleconference.
The Faith Labor Committee is made up of labor and faith activists and leaders who come together to build sustained relationships between the labor community, and individuals and congregations in the faith community. Based on these relationships, the committee works to develop and implement outreach strategies to facilitate the faith community showing up in support of the struggles of working people in our city.
---
Global Justice Committee


Portland Jobs with Justice has long history of global justice and international solidarity work ranging from organizing caravans to the 1999 WTO summit in Seattle and supporting striking GM in workers in Columbia, to mobilizing war resistance and exposing the lies of companies like Nike about their treatment of workers.
Our next Global Justice Committee meeting is
Wednesday, March 25 from 5-6:30pm by teleconference.
Click Here to send an email to the Global Justice committee liaison for information on how to join by teleconference.
---
Climate Jobs PDX
The Climate Jobs PDX project works at the intersections of the labor and climate justice movements, and has been integral to work on passing the Portland Clean Energy Fund, and to helping students organize the recent Climate Strike rally and march in Portland.
Our next meeting is tonight, Wednesday March 18th from 6:30-8pm by Zoom conference.
Click Here to send an email to the Climate Jobs chairperson to join the email list and for information on how to join the virtual meeting.
---
PMPC-Unite Oregon Candidates Forum – CANCELLED
The forum scheduled for this evening, Wednesday, March 18, is cancelled due to the escalating public health crisis and hopes to reschedule soon. In the meantime, let's all take good care of ourselves and each other. 
Portland Jobs with Justice is a proud member of Portland-Metro People's Coalition.
Click Here to check out the 2020 People's platform!
---