Community Care-A-Van: Providence Nurses Need COVID Protections!


Join Oregon Nurses Association nurses on Saturday, January 9 as they car-caravan with community supporters to protest Providence Health's refusal to protect nurses on the front-line of the COVID-19 pandemic. After months of Providence's foot-dragging at the bargaining table, ONA nurses are asking community members to join their struggle for adequate COVID testing, exposure notification, and emergency leave to recover from COVID.


Signs and swag to decorate your car provided!


Our route will begin at the
Tuff Shed Parking Lot
(6500 NE Halsey St) and proceed to several Providence hospitals and worksites, before concluding near Providence St. Vincent Medical Center.
Saturday, January 9th
at
1pm

Click Here
to share the event page on Facebook!
---
A Collective Bargain – Book Study
For decades, intractable social and economic problems have been eating away at the social and political fabric of the United States. There is a single, obvious weapon whose effectiveness has been proven repeatedly throughout US history: unions. Join DSA Labor for a four-week Zoom book group on Jane McAlevey's A Collective Bargain: Unions, Organizing, and the Fight for Democracy.
---
Building an Escalating Campaign
Whether you're a workplace troublemaker or a community leader, we win our demands with smart campaigns. Join us for this essential training from the guidebook "Secrets of a Successful Organizer" on what makes a successful organizing campaign, including choosing the right issue, the right target, and the right tactics. Prepare to make a GAME PLAN for your next fight!

Hosted by Portland DSA Labor Working Group
Saturday, January 9 at 4pm
Register here:   https://tinyurl.com/SecretsJan9

---
Oregon Clean Energy Opportunity Campaign Kickoff!
Across Oregon, communities are organizing to create good jobs in clean energy, make energy bills affordable for all, and improve health with upgrades in people's homes. Let's create clean energy opportunities for all Oregonians!
This is a bold effort supported by community members on the frontlines of environmental justice and the climate crisis to create change at the state legislative level. Join the kickoff event to learn about three bills, hear community members' stories, and to learn ways that you can take action to build a just transition in Oregon!
Tuesday, January 12 from 5:30-6:30pm
In Spanish and English, over Zoom
Click Here to RSVP for this exciting event!
Click Here to share the event page on Facebook!
---
Rally to Inaugurate Justice!
Inauguration Day. A new administration. A new set of struggles.
Plan a contingent, bring signs and friends!
BLACK LIVES MATTER: Defund the police, Invest in communities, pass the Breathe Act;
JOBS FOR ALL: We need a Green New Deal;
REAL COVID RELIEF: Monthly payments and a rent freeze;
MEDICARE FOR ALL, Now;
PROTECTION FOR IMMIGRANTS: Not one more deportation, reunite families;
RESPECT FOR INDIGENOUS SOVEREIGNTY–no corporate or governmental intrusion without Free, Prior, Informed Consent.
FUND HUMAN NEEDS, NOT ENDLESS WARFARE
Wednesday, January 20, from 4-7pm
Irving Park (707 NE Fremont)
Click Here to share the Facebook event page!
Click Here to share the promotional video!

Organized by PDX Defend Democracy Coalition. J.U.I.C.E, Portland DSA, Portland Jobs with Justice, and more!
---
Faith Labor Virtual Breakfast: We Rely on Each Other


You are invited to virtually gather with workers, local faith leaders, and the rest of the JWJ community as we gather to hear powerful stories and celebrate this vibrant and resilient community!


Due to Covid-19, the breakfast will be held over Zoom to prioritize safety. However, the new nature of the breakfast will not change what we are celebrating!


Spanish and ASL interpretation will be provided upon request. Please email Will Layng (
will@jwjpdx.org
) no later than two-weeks before the event (Tuesday, February 2nd) to ensure we have enough time to make the necessary arrangements.
Tuesday, February 16 from 8 – 9am
Attendees will receive a Zoom link closer to the event
Tickets are ten dollars, but no one will be turned away for lack of funds.
Safe Working Conditions for Child Welfare Workers!
Oregon's Child Welfare workers are the foundation of the state's support system for vulnerable children and youth. In Oregon, with increased community spread of COVID, worker and client exposure has steadily risen within the Oregon Department of Human Services (ODHS) – especially in child welfare. When child welfare workers are in highly hazardous work situations with frequent workplace exposure incidents, the hazards ripple out. Safeguarding community health in the midst of a devastating pandemic is essential to serving children, youth and families in Oregon.
Add Your Name to the demands of ODHS workers calling for safety measures such as PPE, telework options, and hazard pay!
---
Support PDX Airport Essential Workers!
Essential Portland International Airport workers like Maryan are organizing for fair wages and paid time off. Support PDX workers and call on the Port of Portland to implement an Airport Workers' Bill of Rights to raise standards for the workers who keep travelers safe during the pandemic! Sign here: bit.ly/pdxworkers
"Right now I am only working one day a week and I make $15/hour. If it was not for my unemployment benefits I would not survive. We need a living wage and more hours back at work. It is getting busier and the airlines are still keeping our hours low. We don't make enough money to survive and we are working harder than ever because we are short staffed." -Maryan, Passenger Service Assistant at PDX
---
Oregon Workers Face Rising Health Risks from Changing Climate
Seeking Worker Stories


As a result of Governor Kate Brown's March 2020 Executive Order to Combat Climate Change, the Oregon Health Authority (OHA) has just released a report (https://bit.ly/3qCrWvr) that documents why climate change is a public health crisis and immediate threat to Oregonians. The report emphasizes the disproportionate health risks to frontline workers who work outside, Black, Indigenous and People of Color (BIPOC) and low-income communities. Hazardous air quality from wildfires and heat-caused illness and death from rising summer temperatures are called out as the two most prominent risks to workers.

Stay tuned as labor unions and grassroots environmental and social justice organizations prepare for public hearings, collect the stories of affected workers, and make a case for strong health and safety as well as wage protection standards for workers. If you have a story to share about exposure to wildfire smoke or high heat days and how it affected you or how workers organized to protect their health and their wages (if forced to take leave due to heat or wildfire smoke), please contact PDX Climate Jobs at markdari@pacifier.com
JwJ Committee Meetings:
---
Steering Committee
The Portland Jobs with Justice Steering Committee meets on the first Monday of each month.
This meeting is open to the public and our membership. At this meeting we discuss and vote on supporting, endorsing, and organizing events that fit into the mission of Jobs with Justice. It is also a great way to make announcements to our membership and meet those involved with the important work of labor-community organizing.
Our next Steering Committee meeting is Monday, February 1st from 5:30-7pm by teleconference. Click Here to send an email to the committee liaison for information on how to join by teleconference.
If your organization would like to make an announcement or would like JwJ to vote to endorse or otherwise support an event or campaign at our Steering Committee meeting, all requests must be submitted by 12:30pm on Friday, January 29th. Priority is given to requests by organizations that are members of the Portland Jobs with Justice coalition.
Click Here to fill out the Steering Committee agenda item request form. Creative digital, call-in, text, and sign-on campaigns are welcome!
Portland Rising
Portland Rising is a committee that hosts discussions, panels, film screenings and other educational events about the importance of unions, and to draw connections between seemingly different campaigns based on the idea that all of our struggles are intersectional and interrelated.
Click here to take a short survey developed by Portland Rising to better understand our community. We hope the information will improve our ability to organize events and programs that can help build a more powerful movement for justice for working people! Responses to the survey will only be seen by members of the Portland Rising steering committee.
Portland Rising and The Coalition of Black Trade Unionists present a Night-in At The
Movies
Portland Rising is pleased to join with the Coalition of Black Trade Unionists to cohost an online showing of the movie "At the River I Stand," followed by a discussion of lessons to be learned from the historic struggle and terrible tragedy showcased in the film.
Friday, January 29, 7-9 pm  
---
Health Care Committee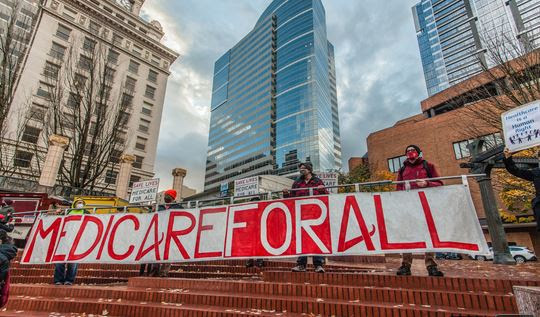 The JwJ Healthcare Committee works to promote healthcare as a human right at the local, state, and national level, to defend union health plans, and to fight for fair, equitable and comprehensive health care that covers everyone and is paid for with public funds.
Nearly 1 in 3 people go without healthcare and face financial hardship due to healthcare costs — exacerbated by COVID-19. Get your questions answered and hear updates on the state's progress toward universal healthcare at a Town Hall Webinar
today (Wed, Jan 6)
from
7-8:30pm.
Click Here to Register!
The January committee meeting is scheduled for
Tuesday, January 19th
from
5:30-7pm
by virtual meeting.
Click Here
to send an email to the Health Care Committee chairperson to get on the committee's email list and for information on how to join the virtual meeting.
Faith Labor Committee
Our Faith Labor Committee's next meeting is Wednesday, January 27th from 12-2pm by virtual meeting.

Click Here to send an email to get on the Faith Labor Committee's email list and for information on how to join the virtual meeting.
The Faith Labor Committee cordially invites you to the 19th Annual Faith Labor Breakfast! It will be held virtually on Tuesday, February 16 from 8-9am. Tickets here!
The Faith Labor Committee is made up of labor and faith activists and leaders who come together to build sustained relationships between the labor community, and individuals and congregations in the faith community. Based on these relationships, the committee works to develop and implement outreach strategies to facilitate the faith community showing up in support of the struggles of working people in our city.
---
Global Justice Committee


Portland Jobs with Justice has long history of global justice and international solidarity work ranging from organizing caravans to the 1999 WTO summit in Seattle and supporting striking GM in workers in Columbia, to mobilizing war resistance and exposing the lies of companies like Nike about their treatment of workers.
Click Here to send an email to the Global Justice committee liaison for information to join our next meeting, Wednesday January 27th from 5:30-6:30pm.
Are you interested in joining or supporting a work delegation to Honduras to rebuild post Hurricanes Eta and Iota?
Are you interested in a local resolution in support of the U.S. normalizing economic and travel relations with Cuba, and to allow breakthrough medicines to alleviate COVID in the U.S?
Please email Jack@pcasc.net if you are interested in either or both campaigns from PCASC via the Global Justice Committee!
---
Climate Jobs PDX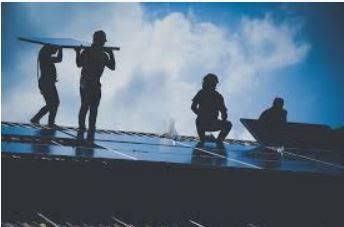 The Climate Jobs PDX project works at the intersections of the labor and climate justice movements, and has been integral to passing the Portland Clean Energy Fund, upholding high Labor standards in Climate Declarations, and efforts in Community Solar.
Our next meeting is Wednesday, January 20th at 5:30pm.
Click Here to send an email to the Climate Jobs chairperson to join the email list and for information to join the virtual meeting.