This week in Labor history: 2011 – Some 45,000 CWA- and IBEW-represented workers at Verizon begin what is to be a two-week strike, refusing to accept more than 100 concession demands by the telecommunications giant. The struggle continues. ICYMI, workers at Portland's Verizon Express Store are organizing to be represented by CWA! Welcome VZWU (Verizon Workers Union!) Keep your eyes peeled for notice of an election!
---
Workers Win Stronger Protections from Heat and Smoke — Just in Time for Summer!

Hot weather is here, and here is what you need to know! New rules in Oregon are now in effect to protect workers, including the right to more breaks, water, and shade! Workers and advocates including JWJ, Climate Jobs, NWJP, PCUN, and many more have worked hard to ensure their voices were heard for workplace safety on hot days. Read more about it and how workers voices made it happen here at the JWJ blog.

Over at OPB, have a look at how the new rules are measuring up. While we have heard that the new rules are making a positive difference for some union workers, Oregon OSHA is receiving quite a few complaints about employer-non compliance. Over at KPTV, NWJP's Mayra Ledesma stresses that advocacy groups and agencies must stay vigilant. We all know that while rules are in effect, they aren't always being enforced, and workers pay the price.
---
Crystal Springs Growing Seeds Workers Union to Strike! Join the Rally & Support the Strike!
Over two years of negotiations with Growing Seeds Kyrie Eppley and what do workers have to show for it? To be fair, some improvements (which have been implemented), but mostly just a rejected contract that does not address the ongoing and unresolved issues in the workplace and a stack of Unfair Labor Practices.

After two years, workers have had enough and are going on Unfair Labor Practice strike! With Growing Seeds declaring impasse earlier this year (despite multiple legitimate pending ULP's), the union has filed yet another ULP and this time workers have had enough.
Please join the members of Growing Seeds Workers Union (ILWU Local 5) at the Crystal Springs location as they stand up for their right to bargain and protest the Employer's dubious declaration of impasse!
Beginning Monday August 8th, and until further notice, workers will be on the picket line M-F 8am-9:30am and 4:30pm-6pm – please stop by and show your support!
To kick off our strike, we will have a small rally on August 8th from 8:30-9:30! Speakers! Chants! Coffee! Donuts! Again, this is ONLY the Growing Seeds Crystal Springs location, 2808 SE Steele St; Portland, OR; 97202.
Join Oregon PSR for the Annual Hiroshima and Nagasaki Memorial Event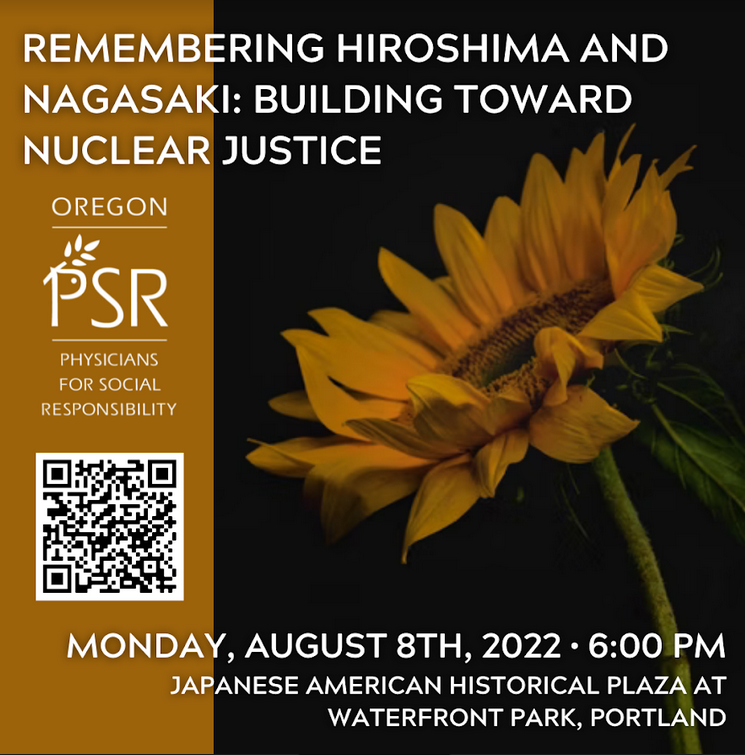 On Monday, August 8th, join the annual event to memorialize Hiroshima and Nagasaki. Free and open to the public, please join Oregon PSR and community members for moving performances by
Portland
Taiko, LaRhonda Steele & the Grace Gospel Quartet, a sing-along with the Hiru Gohan Group, and a dance performance by Tsubaki Buyo Doukoukai. Please also join to honor longtime nuclear abolition leaders, Michiko Kornhauser and Harvey Thorstad.
Monday, August 8th at 6pm
Japanese American Historical Plaza at Waterfront Park


---
Abortion Justice Field Day


After a decades-long fight, we lost the right to abortion when the Supreme Court overturned Roe v. Wade. We are outraged, but we refuse to be swallowed by despair. It's time for us to build the future we want – centered on community care, liberation, and self-determination. And in order to move forward together, we need you with us.

Please save the date for Abortion Justice Field Day from noon-4pm Sunday, August 21 at Revolution Hall, in Portland! Together we will take action, listen, learn, heal and build power for abortion justice.

Even before SCOTUS and anti-abortion extremists took away our constitutional rights, folks in Black, Indigenous, and other communities have faced constant threats to bodily autonomy, reproductive freedom and their lives. Roe was never enough – but regardless of the inequities and injustices stacked against us, time after time, communities have shown up and worked to keep us safe. Together we have the power to stand up against abortion bans and reclaim our rights, impact change and build a better, bolder future where all of us can live the life of our choosing in safety and peace.
---
End the Blockade of Cuba Fiesta


The Portland End the Blockade of Cuba Committee is organizing an outdoor event, Noon on Saturday, August 27th, at Columbia Park. The event will feature food, music and speakers to both celebrate Cuba's achievements and demand an end to the blockade. RSVP Here!

---
New Season Labor Union has made historic progress on their union organizing! Their campaign has gone from side conversations to election in less than six months because the workers are in solidarity that things cannot go on as they have been. As soon as the Seven Corners location went public, workers from multiple other stores reached out. This shows that the need for a union is felt across the company. Despite New Seasons hiring some of the most expensive anti-union lawyers in the country, plastering workplace bulletin boards with anti-union messaging, and engaging in unfair labor practices, the workers have come together and strongly support a union. NSLU has also announced their election! New Seasons was pushing for an in-person election despite the NLRB not doing those since the start of the pandemic. A month after the Seven Corners store filed, the Sellwood workers filed for theirs. Sellwood's election starts a day after Seven Corners. If you'd like to support their efforts, stop by and have a chat with any worker! Follow their efforts at their Instagram or Twitter!
---
Help Ensure the Right to Health Care in Oregon!
Measure 111, or the Right to Healthcare Measure, will make access to health care a constitutional right for all Oregonians. By enshrining the right to health care as the policy of the state, this measure affirms one of JWJ's core values – that health care is a human right! The campaign needs your help to ensure that the measure is successful this November! Help connect with voters across Oregon with weekly, virtual phone banks every Saturday from 11am to 1pm, starting this Saturday.
Prior to calling, there will be a brief training to talk through the canvassing script, a review on logging a voter's response in VAN, and a chance to practice your pitch. Got any questions, comments, or concerns? Feel free to email Emerson at
righttohealthcareoregon@gmail.com
.
Inform everyone in your circle and network that the Right to Health Care–Measure 111(SJR 12) is on the ballot this November and to vote in 2022! To register to vote or to update your registration go the
State of Oregon Elections
.
---
ICYMI, Eviction Representation for All Campaign Update!
The deadline to qualify for this November's election was July 18th, giving the campaign for Eviction Representation for All just under two months to gather 22,000 valid signatures. The November 2022 election was an ambitious goal — the issue of unjust eviction was simply too urgent to aim for less. The good news is that every signature collected this summer will get ERA on the May 2023 ballot, and the campaign is halfway there!

From the start, Eviction Representation for All (ERA) has been a grassroots, tenant-led effort. People are excited every time volunteers hit the streets, unfurl their banner, or hop a train. They are excited about proactive solutions to fighting the housing crisis and recalibrate the tilted scales of eviction court. The time volunteers have to personally collect 30,000 signatures is limited. And that's where you come in.
Sign the petition today!
eratenants.org/sign

Here is a fantastic read
featuring Eviction Representation for All. The article lays out the need for tenant right to counsel, some of the successful campaigns in NYC, San Francisco, and Kansas City, and ERA's work to bring this proven eviction prevention policy to Multnomah County.
On Monday, the campaign stopped by
Ole Mole Variety hour on KBOO!
---
Good News! AFT Votes to Call Pension Funds to Divest!

American Federation of Teachers (AFT), the second largest teachers union in the nation, has passed a resolution calling on pension fund managers to "divest from fossil fuels and reinvest in workers and communities." AFT's 1.7 million workers participate in public and private pension plans totaling roughly $5.8 trillion. AFT estimates that $255 billion is invested in fossil fuel.
According to David Hughes, one of the co-sponsors of the resolution: "These workers are taking control of their assets, withdrawing the social license of the fossil fuel industry, and seeking to reinvest that money in sustainable jobs. That is a forceful statement and a major climate solution."
With Oregon Education Association, AFT-Oregon, and AAUP Oregon as members of the Divest Oregon coalition, statewide Oregon teachers unions are already championing fossil fuel divestment. Your organization can too!
Read the Boston Globe's coverage of the news: American Federation of Teachers calls for fossil fuel divestment
Follow Divest Oregon on Instagram or Twitter.
---
JWJ's Faith-Labor Committee is recruiting leaders!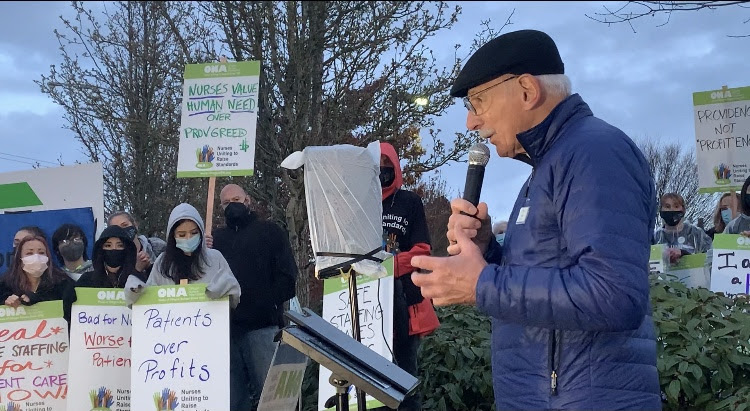 Are you a person of faith and fired up over workers struggle and social justice? Are you interested in working in fellowship with volunteers who dedicate their time and energy to uplift working people? Are you interested in expanding out the good works and building solidarity among communities of faith? Then this opportunity is for you!
The cherished Co-Chairs of JWJ's Faith-Labor Committee are looking to pass the torch to new leadership. Check out the
Job Description
here, and get in touch with
Jean
and/or
Cecil
for more information!
---
Steering Committee

Are you organizing intersectional campaigns around workers' rights + social justice, and looking for community support? Join JwJ's Monthly Steering Committee Meeting, to get support for your struggle!
Portland Jobs with Justice Steering Committee meets on the first Monday of each month from 5:30-7pm. At this meeting we discuss and vote on supporting, endorsing, and organizing events that fit into the mission of Jobs with Justice.
Request support here and share with us at our monthly Steering Committee, next held on Monday, September 12th, from 5:30-7pm, moved from the 1st Monday due to the Labor Day holiday. Click Here to send an email to Sarah for information on how to join! All requests must be submitted by the Friday prior.
---
Portland Rising


Portland Rising is a committee that hosts discussions, panels, film screenings and other educational events about the importance of unions, and to draw connections between seemingly different campaigns based on the idea that all of our struggles are intersectional and interrelated. Portland Rising's thought-provoking discussions inspire real-world organizing.
Portland Rising has recently updated it's "Why Unions Matter" page! Click Here for many new articles in the free library on Worker Organizing efforts, Anti-Worker Threats and Actions, Labor Law and Workers Rights, and more! Check it out and bookmark this resource today!
To get involved or join the mailing list, please email portlandrisingprograms@gmail.com. The committee is engaging in robust organizing around several program areas. Get in touch!

---
Health Care Committee


The JwJ Health Care Committee works to promote healthcare as a human right at the local, state, and national level, to defend union health plans, and to fight for fair, equitable and comprehensive health care that covers everyone and is paid for with public funds.

Click Here to send an email to the Health Care Committee chairperson to get on the committee's email list and for information on how to join the next virtual meeting held Tuesday, August 16th at 5:30pm!

---
Faith Labor Committee
JWJ's Faith Labor Committee's next meeting is Wed, Aug 24th!

Click Here to send an email to get on the Faith Labor Committee's email list and for information to get involved with the meeting.

The Faith Labor Committee is made up of labor and faith activists and leaders who come together to build sustained relationships between the labor community, and individuals and congregations in the faith community. Based on these relationships, the committee works to develop and implement outreach strategies to facilitate the faith community showing up in support of the struggles of working people in our city. Check out the most recent action by our committee. Rev. David Wheeler gave a strong opening to the most recent rally calling for good jobs, great service, and for the Post Office to be a hub for community life!
---
Global Justice Committee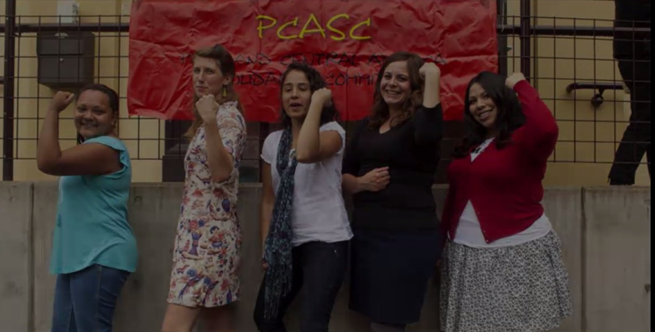 Portland Jobs with Justice has long history of international solidarity work and trade justice. For the better part of two years, we've organized with Trade Justice Education Fund urging US leadership at the WTO to pass a comprehensive TRIPS waiver. We recently joined partners Trade Justice Education Fund to hear about the next trade deal, Indo Pacific Economic Framework.

We recently participated in PCASC's Virtual Spring Brunch and 43rd Anniversary. We continue to uplift solidarity efforts to support migrant seafarers, human rights in the Philippines, and to End the Blockade of Cuba!

Want to get involved? Write sarah@jwjpdx.org!
---
Climate Jobs Committee
The Climate Jobs Committee works at the intersections of the labor and climate justice movements. Climate Jobs has been integral to passing the Portland Clean Energy Fund, upholding high-road Labor standards in Climate and COVID-related emergency declarations, as well as expanding the coalition to create stronger heat and smoke standards to protect frontline workers from climate extremes.
Check out our most recent blog post on how JWJ's Climate Jobs, a coalition of advocates, and workers came together to pass the strongest heat and smoke protections in the nation! Climate Jobs is dedicated to robust climate action and have continued to mobilize with youth climate strikers and participated in rallies and marches to confront climate villains and to demand the City uphold it's commitment to cut greenhouse gas emissions.

Click Here to send an email to the Climate Jobs chairperson to join the email list and for information to join August's meeting!
---